The Digital Lenders Association of Kenya on Monday, June 8, raised concerns over how some online lending firms were shaming customers into repaying their debts.
This was after multiple complaints emerged on social media that two lending apps, Opesa and Okash were reaching out to contacts on the customer's phone book to try and get them to pay back a loan.
"Not only does this behaviour go against Kenyan data protection laws, but it reeks of indignity. By reaching out to a customer's contact list, Opesa and Okash rob the individual of basic dignity and consumer rights," a statement by DLAK Chairman Robert Masinde on behalf of all members noted.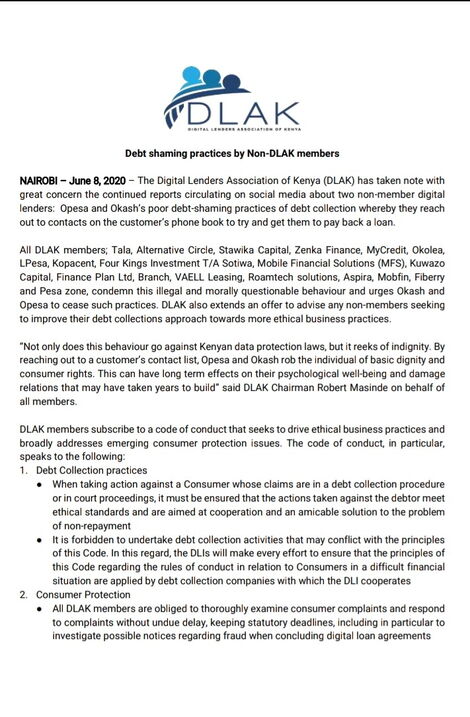 He added that such debt shaming practices could have long term effects on a borrower's psychological well-being and damage relations that may have taken years to build.
The two mentioned lending apps are not members of the Digital lenders' lobby group meaning they are not required to ascribe to the body's code of conduct which touches on matters including debt collection practices as well as consumer protection.
"When taking action against a Consumer whose claims are in a debt collection procedure or in court proceedings, it must be ensured that the actions taken against the debtor meet ethical standards and are aimed at cooperation and an amicable solution to the problem of non-repayment," the statement highlighted.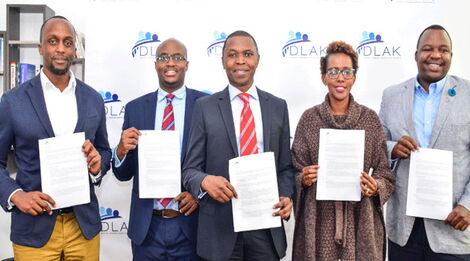 While digital lenders continue to operate in the country, they remain unregulated.
During last month's Monetary Policy Committee press briefing, Central Bank Governor Patrick Njoroge criticised loan apps for their how they conduct their operations adding that their existence poses a major risk to the country's financial system.
"I think the expectation that just because somebody is lending using a mobile phone they can do whatever they like… maybe they can go to the Wild West, that is where they belong not in a proper economy," Njoroge asserted while likening mobile lending apps to a "flea in the economy."
This, even as the digital lenders' lobby group has continually welcomed regulation by the Central Bank.
On April 14, CBK withdrew approvals granted to mobile lending apps to Credit Reference Bureaus (CRBs) as third-party credit information providers, leaving them with little ways of determining a borrower's credit-worthiness.
"The withdrawal is in response to numerous public complaints about misuse of the CIS (Credit Information Sharing) by the unregulated digital and credit-only lenders, and particularly their poor responsiveness to customer complaints," CBK stated.
This means digital lenders no longer submit credit information on their borrowers to CRBs.