President Uhuru Kenyatta brought along opposition leader Raila Odinga on his one-day tour of Ukambani, exacerbating political tensions between the ODM leader and his Nasa partner Kalonzo Musyoka.
President Kenyatta, however, was keen to patch things up between the two, terming them a safe pair of hands for the country while hitting at critics questioning his government's massive spending on infrastructure.
It was a hard sell for leaders who have spent the last few weeks sizing each other up.
In one instance, Kalonzo claimed he would be mad to support Raila for the third time while Raila retorted that some people are going around "barking" about his candidacy when he had not declared it.
In another instance, Kalonzo and his National Super Alliance co-principals Musalia Mudavadi and Moses Wetang'ula initiated the legal process of burying Nasa, complaining that Raila had short-changed them on political parties funds.
Again, Raila told them off, saying he owed them nothing, and dared them to a popularity contest.
It was against this background that Raila showed up at one of the stops, surprising Kalonzo. The Wiper leader said he was unaware that the former PM would be present.
And while Raila's presence was interpreted as raining on Kalonzo's parade, there was concurrent backroom jostling between the Wiper leader and three governors from the region over who would reap most from the presidential visit.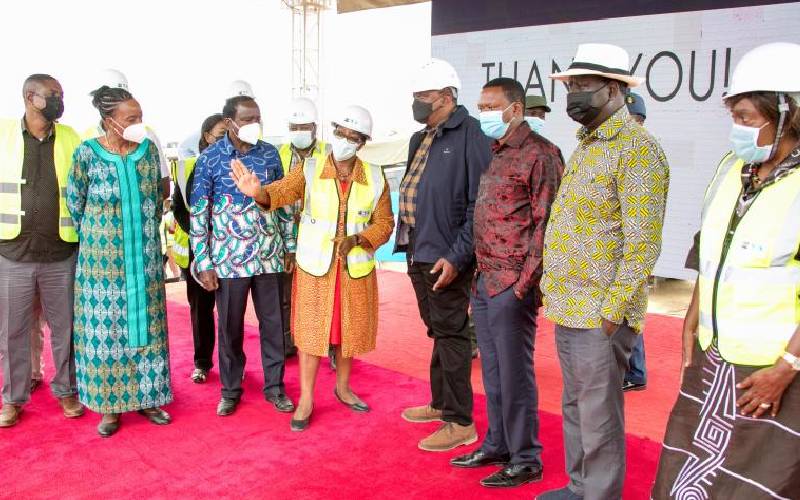 Governors Charity Ngilu (Kitui), Kivutha Kibwana (Makueni) and Alfred Mutua (Machakos) have taken on Kalonzo at some point.
Taking cue from the initial snub by Kalonzo, Raila did not speak. He turned down Governor Kibwana's invitation to address the gathering at Thwake Dam, despite being the African Union (AU) representative on infrastructure.
In Makueni, the president hurled a veiled jibe at his deputy William Ruto, who has been driving a parallel campaign of youth empowerment.
He said unnamed leaders were misleading the youth that empowerment can only come from handouts and added that Raila and Kalonzo understood that infrastructural development was integral part of local development.
"You shouldn't just be talking because you want to incite the youth. You need to first have a plan and you can't have a plan if you do not consider the things that will help people be self-reliant. People do not want handouts, they want to be empowered to fend for themselves," said Uhuru.
He said the infrastructural investment was targeted at improving the standards of living and empowering the youth to run their businesses, generate wealth and create jobs.
"Those who do not understand why we are doing this should know that you cannot solve the problem of youth unemployment and improve the standards of living without infrastructure," said Uhuru.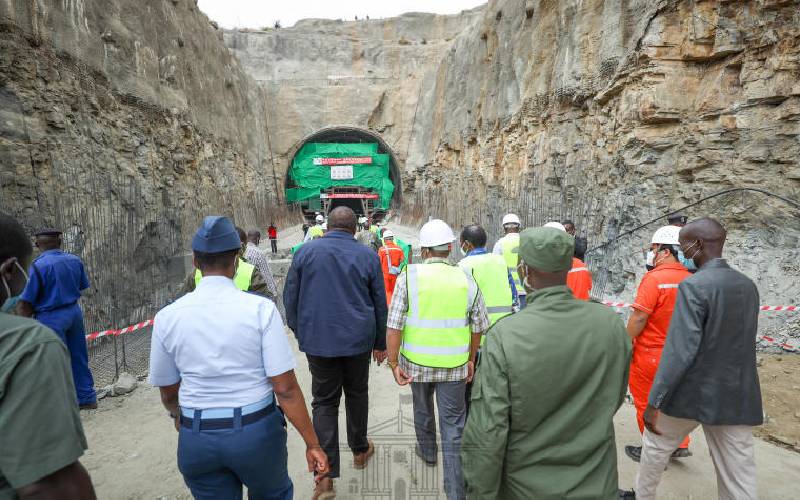 He also wondered why he was being fought for reclaiming land in Ruai, which was set aside for expansion of the sewer system for Nairobi but had been grabbed.
It was every Kenyan's right to access water, Uhuru said, and that was the reason for expanding Nairobi's sewerage system – to prevent dumping of waste in Nairobi River and protect users downstream in Makueni.
"Some individuals were complaining that the government is evicting people from public land. But what we are doing is to repossess land set aside for sewerage infrastructure to ensure safe and clean water for all," President Kenyatta said.
He said the government would recover grabbed land and evict those possessing it illegally.
Uhuru's speech in Thwake also contained directives to National Environment Management Authority (Nema) to tackle pollution.
His statement was a response to a report by Auditor General Nancy Gathungu who raised concerns about the safety of waters from Athi and Thwake rivers, which come from the polluted Nairobi River.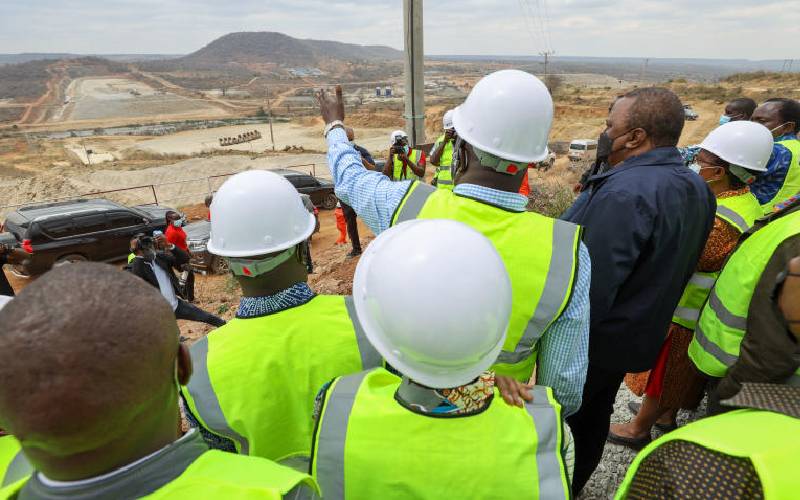 Thwake was the first stop in the president tour of Makueni and Machakos counties that saw him visit the dam as well as commission Machakos governor's office, Machakos International Conference Centre and inspect progress of Konza City.
The first two are part of Mutua's flagship projects. It was somewhat ironic for Kalonzo to make entry into Mutua's grand office, after years of cold war between them.
Kibwana, also another erstwhile critic of Kalonzo, pushed back the narrative that the region's political leadership was divided.
"We appreciate that you have come to launch and inspect projects in our region. We assure you that no petty politics will disrupt these projects. We are all united as leaders," Kibwana said.
[Additional reporting by Erastus Mulwa]
Credit: Source link