In recent years, many Kenyans have fallen victim to digital scams disguised as unique online marketing programs.
These scams feature user-friendly web portals, significant social media presence and are widely promoted on messaging apps including Whatsapp and Telegram. Essentially, they promise recruits substantial earnings based on their ability to refer others to join the platforms.
They may also offer other options for users to make money, but significant revenue is guaranteed only through referrals. As many have painfully realized in the past, such schemes are unsustainable and often crash, leading to major losses for investors.
One such scheme currently sweeping across the country has seen several Kenyans scramble to join it. Many were encouraged to sign up after confirming that payments were actually being made out to those who signed up and referred others.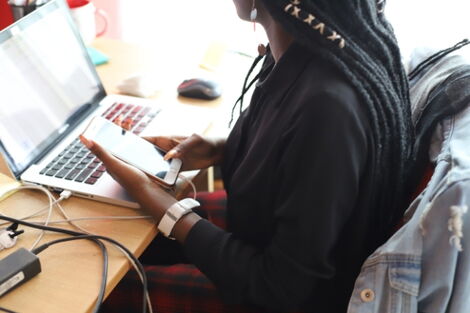 This, however, is a common sign of many such schemes. In a similar scam that saw thousands of Kenyans lose out in 2017, those who got in early earned various amounts and were encouraged to plough back money into the scheme only for it to crash as more people joined, with no way for victims to recover their investments.
Screenshots seen by Newszetu.com revealed that the new scam was being popularized in an elaborate strategy including deceit and the use of fake mobile money transfer screenshots.
As the screenshots revealed, however, recruits are sent a trove of fake messages to use to convince others to sign up for them to earn money.
Among the fake messages are mobile money transactions indicating that users had received large sums of cash from the referral programs. New recruits are asked to pass the screenshots as their own in a bid to get others to sign up.
It is an effective strategy, as the promise of quick riches is too good for many to pass up. Such schemes also regularly use social media videos depicting lavish lifestyles as evidence of the schemes' credibility.
One Dennis*, who lost money to a similar scam in 2017, told Kenyans.co.ke that he was convinced to sign up after seeing his friends earn money from the program.
"And my friends showed me actual payments they received after making referrals so I joined when there were a lot of people, and one day the site just went offline and they stopped responding to queries," he recalled.
Kenyans are advised to undertake due dilligence before signing up for any such programs. This includes ensuring the organization is registered and has the necessary permits at national and county level.
The Directorate of Criminal Investigation (DCI) has given Kenyans pointers on how to stay safe online; in an environment riddled with scams and frauds.
The DCI reiterated that carelessness online would likely lead to loss of finances and in the extreme circumstances, loss of identity.
How to spot a fake website 
Browse the website: take a couple of minutes to double-check the site. Check that the website lists any contact information. Reputable and legitimate companies will always list ways to get in touch with them.
Double-check the domain name: a lot of fraudulent websites will use a domain name that references a well-known brand or product name. But won't be the official website.
You should also be cautious of domains that end in .net or .org, as they are rarely used for online shopping so it may have been acquired by questionable organizations.
Look for the HTTPS: Legitimate websites have to have the HTTPS protocol, which is reflected in their web address, as opposed to just http://, where the 's' stands for secure.
Trust marks: just because a website appears to carry the logo of a reputable trade organization, it still doesn't necessarily mean the website is genuine. If you're in doubt, you could always contact the trust-mark company to check.
Check for Ads: If a company has too many ads and popups, it's likely a scam.
Check return policy: If the company is selling a product online, it should have a shipping and returns policy listed on its website. If it's a real company, it should tell you how and where to return a faulty item.
Have the above security tips in mind as you interact with the Internet.
Report any cybercrime incident / activity to [email protected] and also at the nearest Police station.
Credit: Source link