Four years ago the Brighton Eye (akin to the London Eye) was replaced as a seafront landmark in Brighton by the British Airways i360, a 162-metre-tall vertical tower and its observation pod which lords it over the seafront. It is located on the site of the derelict West Pier that was burned down by fire in 2003. You can still see the sad ruins of the beleaguered pier in the water just beyond.
Some have dubbed the observation pod the "donut" due to its shape, while others have been known to refer to it as something far cheekier (best left unquoted). However you call it, there is no doubt that this is a huge feat of engineering.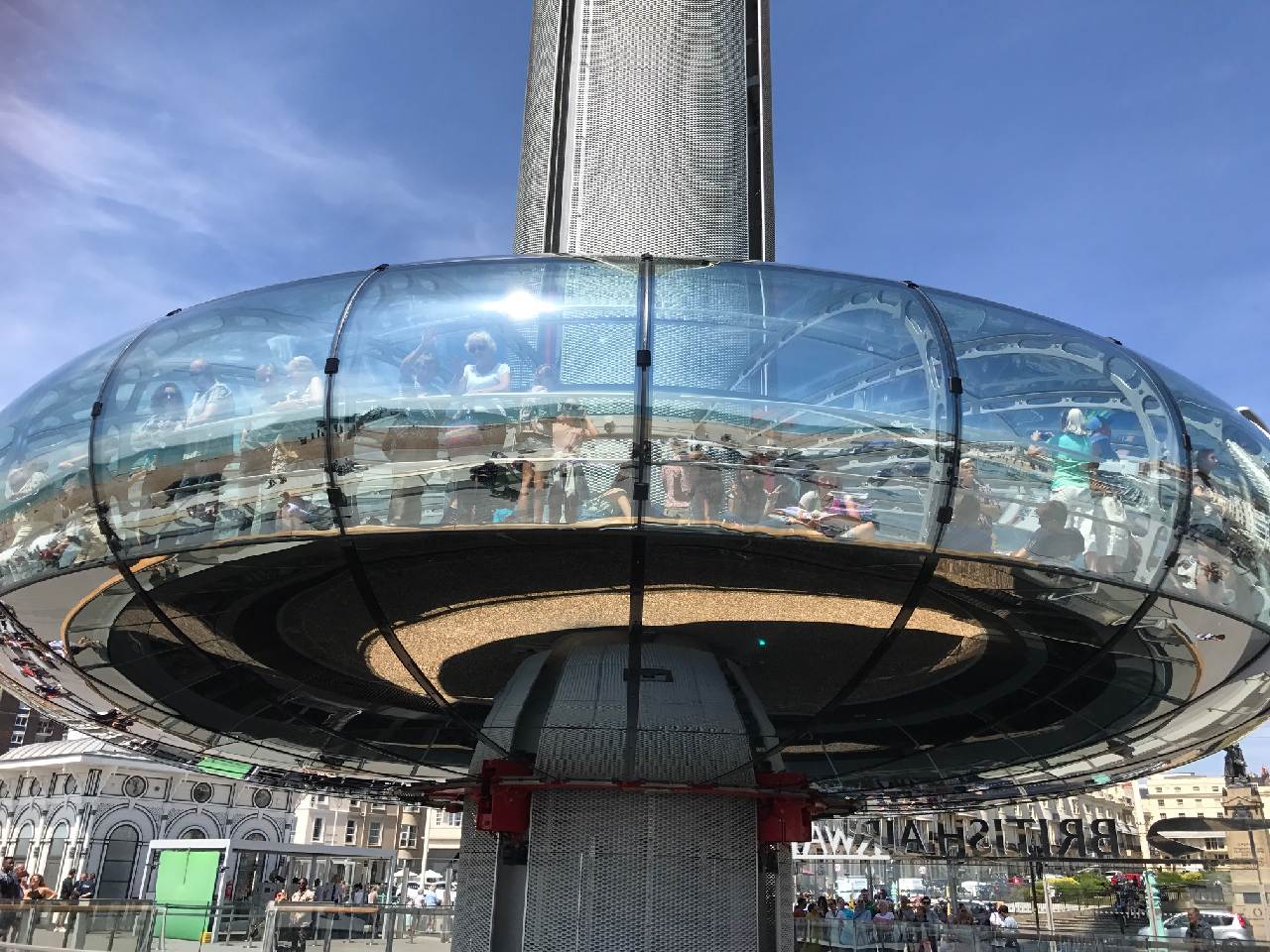 This is the world's tallest moving observation tower with an observation pod built around a central column. It is in fact a fully enclosed futuristic glass sphere that gently lifts (the movement is hardly discernible) up to 200 people to a height of 138 metres.
Click on the image to enlarge
Checking into the BA i360
Like any flight, you have to check-in, collect your ticket and go through security – a sort of airport security light version – a process that is guided by staff dressed in BA livery. Once through security, you wait and watch as the previous flight lands. It's quite extraordinary.
British Airways i360 Viewing Tower – new health and safety measures from British Airways i360 on Vimeo.
Inside the BA i360
Straddled by two BA staff, the doors slowly slide open and passengers are shown into the very spacious 360-degree observation deck. There are some banquettes for those that need to sit but most like to walk around and visually drink in the views over Brighton from various perspectives. As the pod rises the views inevitably become ever more expansive across the sea, both sides of the beach and way into the city and beyond over the Downs.
It is a serene experience with the odd chatter in the background unless, of course, you get on with groups of kids, so be sure to ask which flights are free from school outings.
Though the flight lasts around 25 minutes, it seems all over far too soon and I hardly had enough time to sip the champagne I liberated from the pod Sky Bar.
I highly recommend the experience.
Book a flight at the BA i360 website.
---
You may also like: Brighton Festival – celebrating 50 years of artistic fun in the sun

Credit: Source link