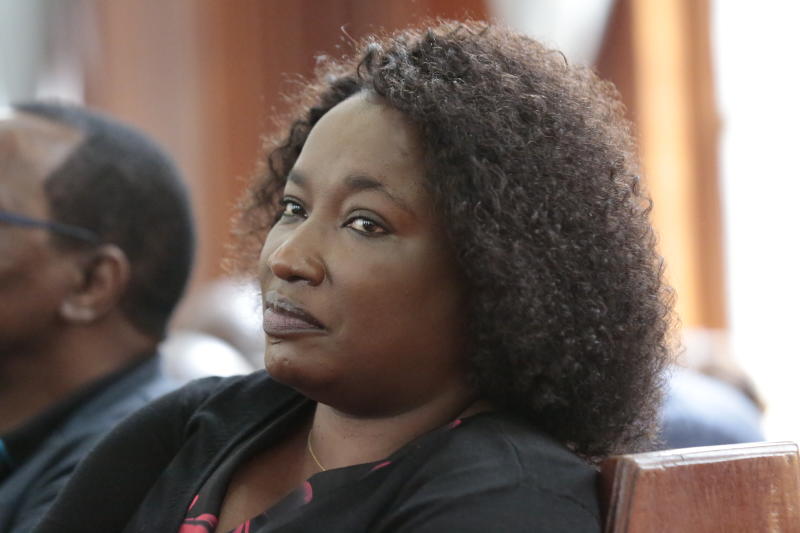 On Thursday, former Youth Affairs Principal Secretary Lilian Omollo  (pictured) won a case in which she challenged a decision by the government to fire her.
While the court found that the government erred in the manner in which it fired Omollo, she would only walk away with one shilling as compensation for her troubles.
In delivering his judgement, Justice Stephen Radido found that Omollo was not subjected to due process nor was she given reasons for her removal from office.
He found that because the former PS, who is currently facing corruption charges, was found to have unexplained wealth, the amount awarded was adequate compensation for the violation of her rights.
Litigants are given nominal awards where judges find that they have not suffered any loss. Such verdicts are borrowed from British courts where judges awarded litigants a penny.
Omollo is however not the only one who had won the 'feel good' award, which courts rarely give to litigants who they feel had demonstrated an injury but do not deserve to be compensated.
In 1994, Edith Muthoni dragged her landlord to court, demanding Sh5 million as he had carted away deep fryers, potato peelers, chairs, tables, bicycles, a water tank and heater, cabins and sinks in a Sh36,000 rent dispute. The landlord also kicked her out of the premises.
In her case against John Muchemi and two others, Muthoni claimed that she had incurred losses to a tune of Sh6,000 per day. Her business was to supply meals to clients around Industrial Area, Nairobi.
The businesswoman told the court that she started the catering outfit in 1982.
She bought the business from a third party and developed it over time, supplying meals to clients, who included a school in Kasarani.
Muthoni insisted that she had no rent arrears.
A house agent, Charles Onyancha, defended his employer, saying her rent by August 1, 1994 was Sh56,000 and she had only paid Sh20,000.
She however ended up being compensated with the rent she had not paid.
Illegal eviction
After six years in court, Justice John Mwera on December 8, 2011 found that although Muthoni had asked for a hefty compensation, her kind of business could not be incurring the kind of losses she was claiming.
"The court even wondered that if the plaintiff had made about Sh1m per annum why did she default in paying rents at Sh4,000 per month? Unbelievable.
"Hers must have been a small outfit supplying small amounts of snacks by bicycle in Industrial Area," said Justice Mwera.
The judge also noted that on the day her landlord was evicting her, she had already closed the eatery.
He said although Muthoni had been affected by the eviction, and it was illegal, the much he would give her was the rent arrears she owed him.
"That sum is given here on a nominal basis, owing to her own conduct in the whole case, put at Sh36,000.
"But this shall not be paid by the defendants. She owed this sum in unpaid rents. Let her keep it," Justice Mwera ruled.
Then there is Daniel Mwanzau, a security guard who walked away with Sh1,200 after five years battling unfair termination case before the Labour Court.
He had pursued Brink Security Services after he was fired in 2015 for being drunk while at work.
Following his sacking, Mwanzau sued his employer, seeking Sh114,000 as damages for wrongful dismissal.
He also asked the court to award him Sh494,000 for unpaid overtime for the 13 years he worked for the security firm.
Mwanzau also sought for an unpaid salary of Sh14,500 and additional Sh2,500 uniforms refund.
Raymond Nzioka, Brink's HR manager testified on behalf of the firm. He explained that Mwanzau habitually absconded duty. He however admitted that there was no alcoblow to ascertain whether the employee was drunk.
While agreeing with Brink Security Services, Justice Onesmus Makau ruled that Mwanzau was given an opportunity to answer to the allegations by his employer and heard. Justice Makau, however, found that he was entitled to Sh2,400 refund for his uniform.
Meanwhile, Mwanzau did not fully clear while leaving the company. This cost him Sh1,380 which he ought to refund to his former employer.
Proof of damages
In 1991, then Chief Justice Alan Robin Winston Hancox and Court of Appeal judges Joseph Raymond Masime and Riaga Omollo awarded a businessman Sh2,000 after auctioneers who were sent by Agriculture Finance Corporation (AFC) to fetch assets from a defaulter's farm took away his car.
The bank claimed that since the complainant named as Atogo was known to the defaulter, Ojwang Hawala, they allegedly connived to change the car's ownership when Hawala knew that auctioneers were coming.
Atogo had asked the court in the four years' case to award him at least Sh90,000. The businessman claimed that he bought the car from one David Kiptum on May 25, 1987.
In the end, the judges faulted the bank for wrongly attaching Atogo's vehicle but pointed out that he did not prove that he had incurred damages.
Justice Hancox said he would have awarded Atogo some Sh40 but it was too unrealistic at that time, he added Sh1,960.
In another case, the Kenya National Highway Authority (Kenha) won Sh10,000 as a token for trespass.
The High Court, in a decision where proprietors Stephen Kiragu and Herman Ngari who were seeking compensation after Kenha bulldozers demolished their houses in Nakuru County, declared that all Kenha needs to do is draw an X sign on a trespasser's property before pulling it down.
Although it was a win for the roads construction authority, it walked away with Sh10,000 which was to be split equally between the two parties.
In the case, Kiragu sought Sh3.7 million while it is not indicated how much Ngari wanted.
Bearing in mind that the case was in the corridors of justice for a year, Kenha earned just Sh27 every day the file lay waiting for the final verdict.
Justice Munyao Sila said that Kenha would not get a good package as it had left out other houses surrounding Kiragu's, and had equally been built on a road reserve.
Credit: Source link