No crowd was there to witness it live, but Charles Oliveira put on a world-class performance in Brazil on Saturday. And although it's unlikely he'll get a title shot in his next fight, you really can't blame him for asking for it.
Seven finishes in a row, including the third-round submission of Kevin Lee in the main event, ties Oliveira with Chuck Liddell and is one off the record set by Anderson Silva. Oliveira's 14 submission victories is the most in UFC history, and his 16 finishes ties him with Donald Cerrone for the most in UFC history.
In the co-main event, Gilbert Burns stopped Demian Maia with a first-round TKO.
The story of UFC Fight Night, at the end of the day, will probably focus around the absent audience due to the coronavirus, but it should also heavily hang on Oliveira. He is at the top of his game at age 30, and he hasn't lost since mid-2018.
So, who's next for Oliveira, Lee, Burns and Maia? Here's my take.
Charles Oliveira
Who should be next: Cerrone
I really would like to see Oliveira fight Dustin Poirier. Poirier's boxing vs. Oliveira's Muay Thai would be a fantastic matchup.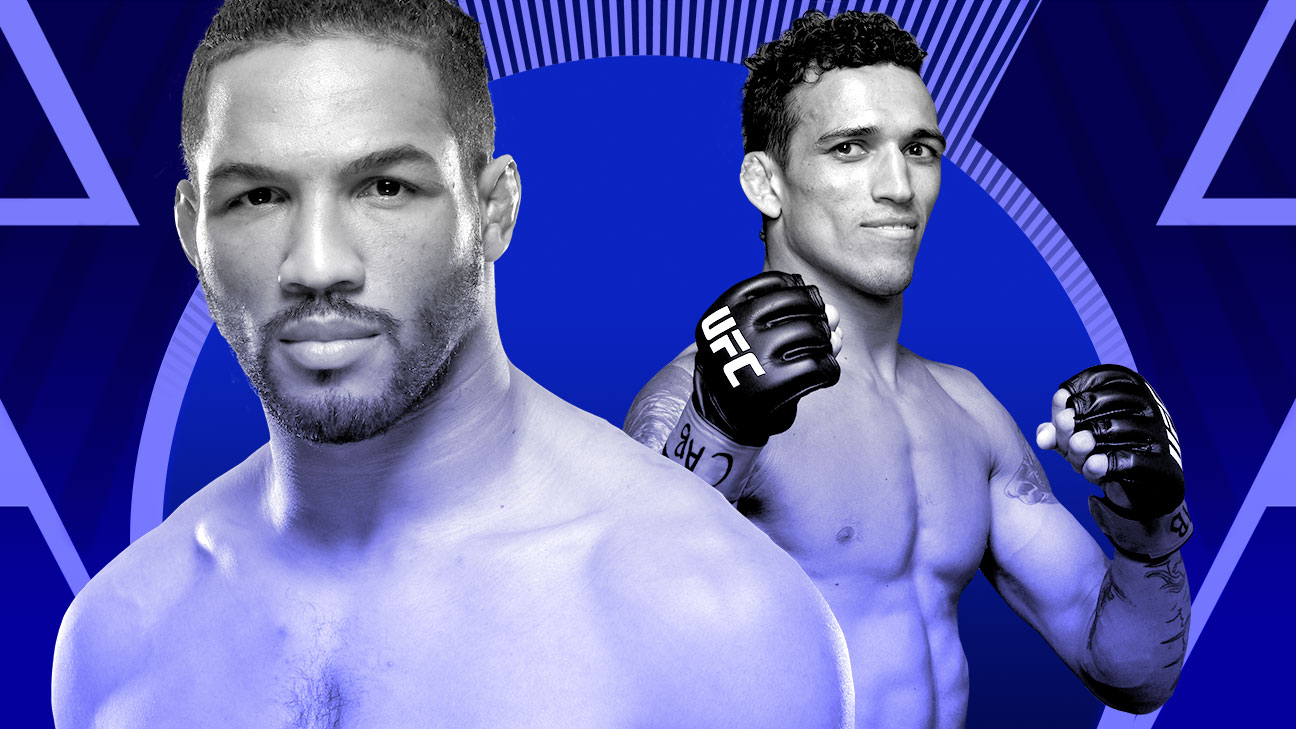 All fights from UFC Fight Night: Lee vs. Oliveira are available to watch on ESPN+.
• Kevin Lee vs. Charles Oliveira
• Demian Maia vs. Gilbert Burns
• Renato Moicano vs. Damir Hadzovic
• Johnny Walker vs. Nikita Krylov
• Francisco Trinaldo vs. John Makdessi
• Jussier Formiga vs. Brandon Moreno
• Randa Markos vs. Amanda Ribas
• Elizeu Zaleski dos Santos vs. Aleksei Kunchenko
• Rani Yahya vs. Enrique Barzola
• Maryna Moroz vs. Mayra Bueno Silva
• Bruno Silva vs. David Dvorak
• Veronica Macedo vs. Bea Malecki
Oliveira is hurting people on the feet right now. We need to rethink how we're handicapping this guy. He a legitimate menace on the feet. Poirier is the same. Two guys whose real talents used to lie on the ground, but they've evolved into finishers on the feet. Both have a willingness to bite down on the mouthpiece and test their own chin, too.
Unfortunately, the UFC is already looking at a fight between Poirier and Dan Hooker, so … Cowboy. Cerrone's stock is about as low as it has ever been in his career. He's lost three in a row and is coming off a 40-second knockout loss to Conor McGregor in January. He's still highly ranked, though, because of all he's done in the sport before this recent skid. He holds a win over Oliveira from 2011 — one of the most impressive knockouts on his long highlight reel.
This fight would give Oliveira a name that might push him over the edge in terms of recognition and give him a chance to avenge a previous loss.
Dark horse: Poirier.
Hey, if anything happens with the Poirier-Hooker fight, let's get Oliveira in there. If the UFC puts that fight together, have Oliveira on standby. A fight against either one of those for Oliveira is fireworks.
Kevin Lee
Who should be next: Paul Felder
Tough week for Lee. Fly to Brazil, miss weight, get outclassed by a man ranked well below you. Not good. People have given up on Lee before, though, and then he reminded everyone of what he's capable of with one of the most brutal knockouts of 2019 against Gregor Gillespie. The same has to happen now. The fans are going to give up on Lee. He's a man without a home — too big and not enough gas for 155, too small for 170. Expectations are going to be low for him in the near future. Rankings-wise, though, he still deserves a legitimate opponent, and Felder qualifies. Big fight for both. And don't sleep on Lee if this fight were to be made. It might feel as though he'll never find his way again at 155 after Saturday, but as we saw after his victory against Gillespie, that can change really quick.
Dark horse: Anthony Pettis
I'm expecting Lee to stay at lightweight, but if he wants to go welterweight, how about another former lightweight. Pettis is almost exactly where Lee is now, honestly. He's stuck between divisions and coming off a demoralizing loss to Diego Ferreira. It's two fighters trying to get something good going — two fighters with plenty of name recognition between them.
After getting taken down, Gilbert Burns tries to apply a kneebar on Demian Maia in the first round. For more UFC, sign up here for ESPN+ http://plus.espn.com/ufc.
Gilbert Burns
Who should be next: Michael Chiesa
After Chiesa's win against former lightweight champion Rafael dos Anjos in January, I said he should fight the winner of this bout. And nothing has changed, despite the fact Burns called out Colby Covington after the fight. In fact, Chiesa might agree with me. Prior to this fight on Saturday, Chiesa wrote on Twitter he would be watching the contest very closely. It makes a ton of sense, from a rankings perspective and a stylistic perspective. Burns is a fantastic grappler, but you could tell by the way he fought on Saturday he knew he held a very comfortable advantage on the feet over Maia. He might feel the same way against Chiesa.
Burns has shown more power, but Chiesa is a workhorse. A grappling contest would be amazing between these two, but if it turns into a fight on the feet, that's interesting, too. They're also both former lightweights.
Dark horse: Winner of Vicente Luque vs. Randy Brown on April 11.
I love the idea of a Burns vs. Luque fight. Stylistically, two guys who are very good at finishing fights in multiple ways. Luque is coming off a loss to Stephen Thompson in his most recent bout, but if he gets back in the win column against Brown, I'd be very down for this fight. And same goes for Brown. I wouldn't be quite as excited for it as I would the former, but if Brown gets the win, this would be a good fight for him and he will have moved up in the rankings.
Demian Maia
Who should be next: Anderson Silva
It was actually Burns who suggested this in his postfight interview, and you know what? Why the heck not? The first fight between Silva and Maia is one of the more infamous ones in UFC history. It was UFC 112 on April 10, 2010, in Abu Dhabi, United Arab Emirates. UFC president Dana White was so upset with Silva's antics in that middleweight title fight that he gave the belt to Silva's manager, Ed Soares, before it was over because he refused to wrap it around Silva. Both Silva and Maia are, obviously, at very different points in their respective careers. It would be a nostalgic, fairly matched fight to do in Brazil later this year. I'm in for this.
Dark horse: Matt Brown
Another rematch. Maia submitted Brown back in 2016. Brown is scheduled to fight Miguel Baeza at the end of the month in a bout that really doesn't mean much for Brown, if we're being honest. Brown is also at a point in his career where it's not necessary to throw him into the "title contender" machine. Win or lose, I'd watch Brown fight Maia again. And it would be an opportunity for Maia to tie Cerrone for the most wins in UFC history against a well-known, veteran opponent.
Credit: Source link