The March 4 by-elections in Matungu and Kabuchai constituencies now appear to be test-runs for top political stalwarts, as they buckle up for next year's General Election.
The United Democratic Alliance (UDA), associated with Deputy President William Ruto, has fielded candidates in both mini polls, while the DP has been frequenting Western Kenya to market his presidential bid.
Former Prime Minister Raila Odinga's ODM is also trying its luck in Matungu, despite a major onslaught from its National Super Alliance (Nasa) partner Amani National Congress (ANC), which is backed by Ford-Kenya.
While ANC has sponsored a candidate in Matungu, it is backing a Ford-Kenya candidate in Kabuchai, which is Senator Moses Wetang'ula's base.
Raila has enjoyed huge support from the region in the past elections and the Matungu by-election will determine whether the backing is still intact. The ODM campaigns are being spearheaded by Deputy Party Leader Wycliffe Oparanya.
Mudavadi is striving to consolidate his support in the region, which is his backyard, before seeking support in other parts of the country, while Ruto aims to penetrate the area to add to his Rift Valley tuff.
Though not among the top presidential contenders, Wetang'ula is keen on bagging the Kabuchai seat to show that he still has the grip of Bungoma County to bolster his bargaining power.
As a result, the candidates in the by-elections have been thrown to the periphery, with the focus shifting to political party leaders.
"The candidates vying for the seats are of little significance, as the exercise is no longer about them but the forces behind them. It is an opportunity for the political stalwarts to size each other up and see how they perform in each region," said political commentator Barrack Muluka.
"That is why some political giants have teamed up to campaign together in Matungu, Kabuchai and Machakos."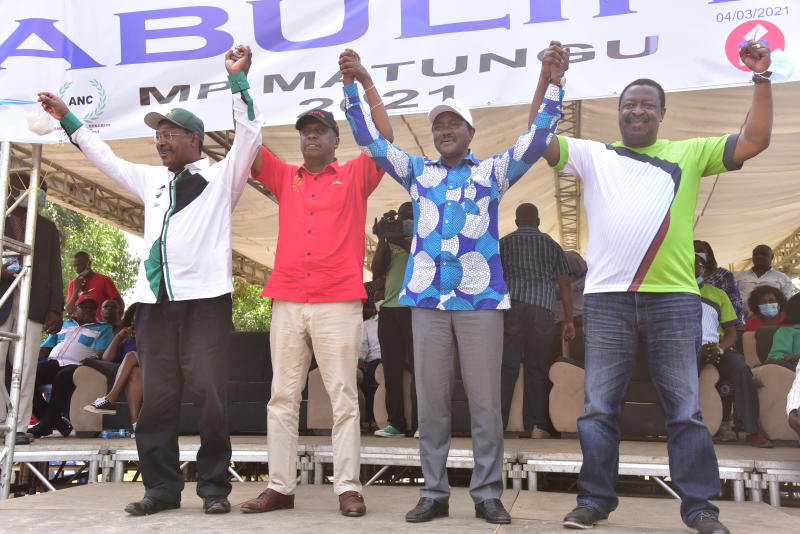 Kanu Chairman Gideon Moi, Wiper leader Kalonzo Musyoka, Mudavadi and Wetang'ula have teamed up to campaign for joint candidates in the mini-polls. They went to Kabuchai on Tuesday and yesterday they were in Matungu.
Muluka said Mudavadi sees Western as his bedroom, Ruto wants to assess his popularity in the area while Raila is keen to know if he still has a grip of the region.
"Musalia is supposed to be king of Western, but the fact that he has sought external support in campaigns instead of going it alone speaks poorly of his grip on the area," he said.
Moi University don Nyaga Kindiki said apart from the top presidential hopefuls using the by-elections to test their political statuses, the battle for Western Kenya and Coast was a result of them being seen as swing vote regions.
"Everyone is eyeing a piece of the Western votes, and with the entry of Dr Mukhisa Kituyi, the votes are going to be further divided. The top political leaders want to know whether they have followers or not, or who is more popular in Western Kenya," Prof Kindiki said.
The decision by Gideon, Kalonzo, Mudavadi and Wetang'ula to campaign together is yet another signal that a new political alliance could be in the offing.
This was the third time the leaders were campaigning together after rallying behind Wiper candidate for the Machakos Senate seat.
Speculations are rife that the leaders could be crafting a winning formula that would see one of them succeed President Uhuru Kenyatta next year.
Except for Gideon, the leaders were members of Nasa, and they now appear determined to sideline Raila, who was the alliance's leader, by looking for new partners.
Raila has a number of times said Nasa was formed with the intention of clinching power, but the outfit failed to achieve the goal and therefore had outlived its usefulness.
The Matungu and Kabuchai mini-polls have been touted as acid test for Raila, Ruto, Mudavadi and Wetang'ula. But with the entry of Gideon and Kalonzo in the matrix, the contest could be more exciting.
In Matungu, ANC is fielding Peter Nabulindo, former MP David Were is flying the ODM flag, while Alex Lanya is running on UDA.
UDA has lured some independent candidates, the latest being former Mumias Mayor Anzelimo Kongoti, who withdrew his candidature after a meeting with Ruto.
Oparanya, who is the Kakamega governor, has pitched tent in Matungu to drum up support for Were, who represented the constituency for 15 years.
In Kabuchai, the top contenders are Majimbo Kalasinga of Ford-Kenya and UDA's Evans Kakai.
The constituency is Wetang'ula's ancestral home and stronghold, and this could be a blessing in disguise for Kalasinga. ODM did not field a candidate in Kabuchai despite earlier announcement by Raila that the party would be in the race.
While in Machakos recently, Kalonzo, Gideon, Mudavadi and Wetang'ula said they would work together to ensure they jointly form the government next year.
It is here where Mudavadi announced that the team would be heading to Matungu and Kabuchai to campaign for ANC and Ford-Kenya candidates.
Matungu and Kabuchai seats fell vacant following the death of MPs Justus Murunga (ANC) and James Lusweti in November and December last year, respectively.
Political force
Yesterday, Kalonzo was categorical that the new team would form a political force to reckon with.
Political activities have recently heightened in the two constituencies. Ruto, determined to take a slice of the Western votes, has toured Matungu at least twice to woo the locals to back Lanya, a youthful politician and a friend of the late Murunga.
But Ruto must have recently left a disappointed man after hundreds of the residents told him to his face at a funeral that they preferred the ANC candidate to Lanya.
Not even the DP's point-men in Kakamega, including Mumias East MP Benjamin Washiali, former Sports Cabinet Secretary Rashid Echesa and former Kakamega Senator Boni Khalwale, accompanying him, could calm the mourners who would hear none of the UDA candidate's calls for support.
Ruto allies went back to the drawing board and have emerged a re-energised team, which usually accompanies Lanya at campaign rallies, drumming up support for him.
Credit: Source link