Gor Mahia's shrine in Ndhiwa Constituency is famous among residents of Nyanza who flock it hoping for blessings to achieve various goals.
Among those who troop to the shrine are politicians, who mainly visit around election time. And in the words of residents, the politicians visit the shrine to get help from the spirit of Gor Mahia hoping to capture political power.
Some residents said they expect politicians from around Nyanza to flock the shrine ahead of next year's elections in the hope of getting blessings from Gor Mahia's spirit to trounce their opponents.
Gor Mahia was a powerful magician and paramount chief who was buried at the shrine many years ago.
It is also from him that the Kenyan football league club, Gor Mahia, got its name. The team has often visited the shrine, sometimes ahead of crucial matches.
The shrine on Sigama Hill in Kanyamwa Kosewe Ward, Homa Bay County, is where the magician, born around 1805, is said to have been buried in 1920. He had 17 wives and many children and grandchildren.
The shrine is covered under indigenous trees. From a distance, it looks like any other bush. One cannot tell its significance just by looking at it.
The grave of Gor Mahia is at the bottom of the hill and is surrounded by stones and overgrown grass.
Early last week, Gor Mahia FC's Portuguese coach Carlos Manuel Vaz Pinto set tongues wagging when he joined the team in a visit to the shrine. This was ahead of their Kenyan Premier League match against Kakamega Homeboyz, which they won 2-1. Some claimed the victory was as a result of their visit to the shrine.
This was not the first time the team was visiting the shrine. Apart from Pinto, the other former coaches of the club who have visited the shrine are Zedekiah Otieno, Cypriot Hassan Oktay and Dane Jack Johnson.
There have been claims the team has been performing rituals on Gor Mahia's grave every time they visit, but team manager Jolawi Obondo has denied this.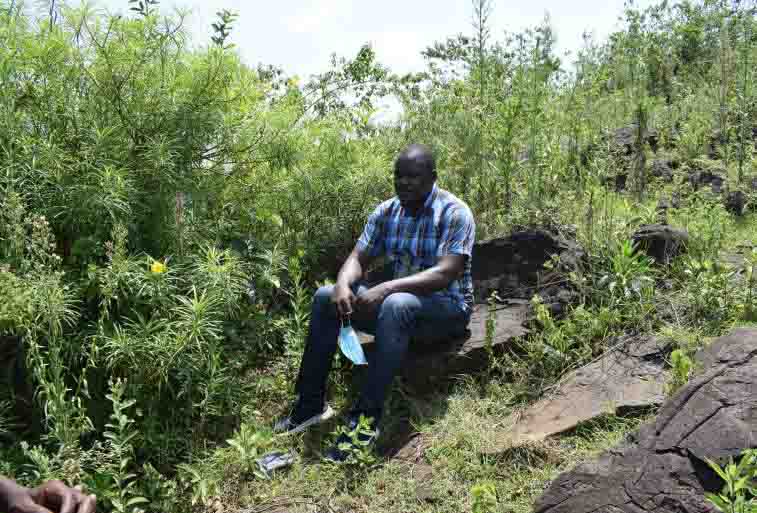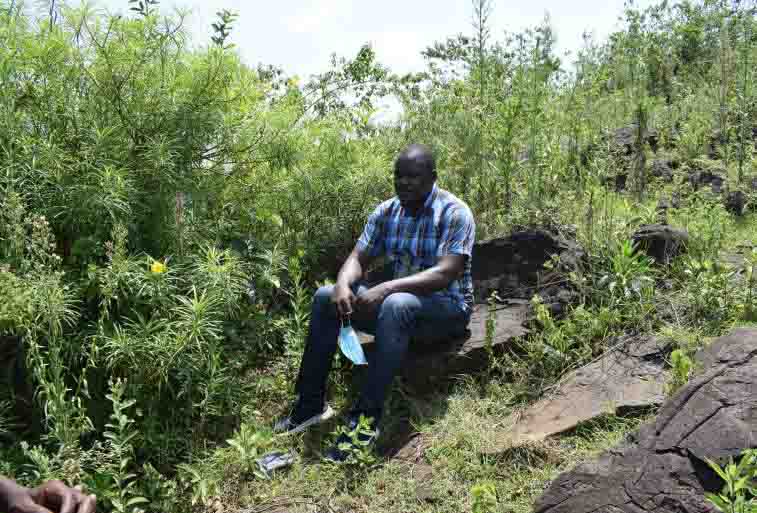 Obondo said the only reason they visit the shrine was to pay respect to the spirit of the magician, believed to have had supernatural powers.
"We normally carry sugar, salt and other foodstuff which are distributed to descendants of Gor Mahia. We don't conduct any rituals on the grave. We only go to the shrine to pay our respects to the spirit of Gor Mahia, who gave our team its name," he said.
But Obondo also said they carry a blanket, which they spread on the grave. According to him, the blanket is better than the hide Gor Mahia used to cover himself with.
"In the end, the blanket is left to the family for their use," said Obondo.
However, anyone seeking Gor Mahia's help cannot go to the shrine alone, according to those familiar with the visits. One has to be accompanied by a mediator, 105-year-old Magdalina Nyacharo, the wife to Gor's grandson.
She is said to be the only one who can speak to Gor on behalf of those needing his help.
This is what Nyacharo would say before guests can get close to Gor Mahia's grave: "Kwara ineno ka wendi obiro limi. Koro igwedhgi. Kigwedhogi to ginidwokni erokamano. Koro wuo kodgi maber. Kiwuoyo kogdgi maber, igwedhogi, imiyogi gimaber, onge rach magineno, koro ginieri Jaduong. (My grandfather, you can see your guests have come to visit you. Bless them. If you bless them, they will thank you. Therefore talk to them well so they stay here without any problem. They will love you sir)."
"There is no ritual we perform here to make Gor bless anybody. I am only a mediator who intercedes for guests so he can receive them. He is the one who blesses guests and he does it after my conversation with him," Nyacharo said.
"You don't have to bring anything while visiting the shrine of Gor who had supernatural powers which made him a renowned warrior during those days."
He is said to have used magical powers turn him into a donkey, a stone, a tree or a girl, to hide or escape from his enemies during war.
Gor Mahia's grandson Joseph Ogada said all kinds of people have been visiting the shrine.
"May people visit Gor's grave to seek his blessings. They believe Gor's spirit can transform their lives," said Ogada.
Grace Otieno, wife to one of Gor's great grandsons, said there is a special stone called kom Gor (Gor's chair) at the shrine. "It was on that stone that Gor sat while mediating disputes," said Grace.
County Sports and Culture Executive Fredrick Odero and his Chief Officer Moses Buriri said plans were underway to upgrade the shrine so it can become a tourist attraction site.
The officials said the county will put up a mausoleum and fence the compound. They will also put up a library that will stock materials on the life of Gor Mahia.
"We will start by collecting views of residents on plans to upgrade the shrine," Odero said, adding these plans will also include construction of a modern football stadium in Homa Bay Town.
Gor Mahia is still revered in the Luo community, with politicians and football teams frequenting his shrine.
Among those who have visited is ODM leader Raila Odinga in 1999.
"Raila visited as a friend of our family. He is the only politician who has visited the shrine without hiding," Ogada said.
There are reports many other local politicians have been visiting the shrine, but they never admit it.
Credit: Source link