Health & Science
Namanga had 142 confirmed cases of Covid-19 detected, where 126 were foreigners seeking entry into Kenya through the border point. The were Kenyans.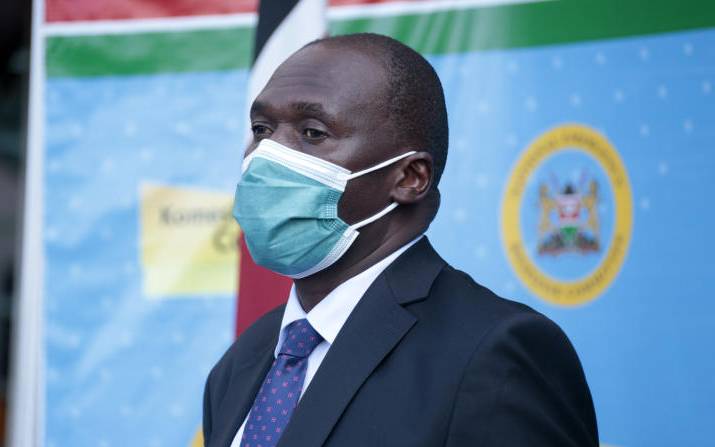 The government will not lockdown Namanga just yet despite the threat of imported Covid-19 cases from the neighbouring country of Tanzania.
Health Director-General Dr Patrick Amoth (above) said the government at the moment seeks to monitor the movement of persons across the border as they observe the transmission rates.
Amoth said so far no local transmission has been reported.
SEE ALSO: 'Football with fans will be back soon,' says UEFA president
"There is no local transmission in Namanga yet, and as such, there is no justification for that action (locking down the town)," he said.
Of the four towns bordering Kenya and Tanzania, Namanga leads with the highest number of imported cases, the majority being truck drivers, as per data released by the Ministry of Health on Tuesday.
Namanga had 142 confirmed cases of Covid-19 detected, where 126 were foreigners seeking entry into Kenya through the border point. The rest 16 were Kenyans.
The 126, were however denied entry into the country and sent back. Taveta border point recorded 25 cases from which 23 are foreigners.
In Lunga Lunga 24 of the 27 cases were foreigners, and Loitoktok had six cases with five as foreigners.
SEE ALSO: No hugs, photographers behind goal as league draws up return plans
Only Isebania town bordering Tanzania in Migori County recorded more cases of Kenyans testing positive (10) compared to foreigners(four).
"However, because of the challenges we have with truck drivers, we continue to closely monitor cross border movement and possible transmission," said Amoth.
Amoth noted even as the country focuses on the border due to cross border infections, there are still planned targeted mass testing locally to control local transmissions.
This high local transmission is what led to order on cessation of movement in and out of Eastleigh, Nairobi and Old Town in Mombasa.
He said the risk in these areas is still high, though not so many positive cases have been reported from the areas lately.
SEE ALSO: Piped noise, 'sex dolls': How to liven up an empty football stadium
Both Nairobi and Mombasa are also under lockdown following as they are hotspots.
"They are still hotspots and we are still doing everything to stop any further spread. Another round of mass testing in the two places continues today(yesterday)," he said.
In Nairobi, there are eight hotspots as listed by the Ministry of Health where Kamkunji leads with 104, followed by Dagoretti North (56), Embakasi East (38), Langata (34), Kibra (24), Westlands (22), Starehe (14) and Makadra (13).
There are six hotspots in Mombasa namely: Mvita (186 cases), Likoni(44), Kisauni(37), Nyali(28), Changamwe(21) and Jomvu(13).

Credit: Source link