Health & Fitness
Yoga festival attracts global yogis to Kenya coast
Friday, March 6, 2020 15:10

By MARGARETTA WA GACHERU
It's no wonder all 400 spaces reserved for attendants at the Seventh International Lamu Yoga Festival were fully booked several months before the Festival got underway this past Wednesday and running through Sunday.
"Many are coming from all over the world," says Festival founder and Chairperson Monika Fauth. "That includes all 35 of our yoga teachers," she adds, noting that a number of the qualified teachers are Kenyans.
Others are from Uganda, Ethiopia, Germany, Holland, US, UK, India, Italy, Sri Lanka and Bali.
"They are all coming as volunteers because part of doing yoga is 'giving back' and what better way to do that than to teach it," says Monika who had been teaching yoga for many years before she organized the very first Lamu Yoga Festival in 2014.
She still teaches every day at the Banana House and Wellness Centre which she opened a few years before launching the first yoga Festival in Kenya and East Africa. But she already had the wellness centre and festival in mind when she opened her elegant guest house which she named after her husband whose nickname is 'Banana'.
The program this year includes classes in nearly 50 styles of yoga including Bikram yoga, Hatha yoga, Kemetic yoga and even Aqua yoga as well as Tai chi, Osho Sufi Dance meditation and Pranayama (a set of breathing techniques meant to strengthen one's life force or 'prana'.
The classes are currently running at various times of the day, some starting as early as 6:30am, while others go on until 9:30 at night. The program is being held all over Shela village and Manda Island featuring not only classes but workshops, talks and therapies related to yoga and wellness.
Since many of the visitors at the Festival may have never been to Lamu before, there will be several special events for them.
They include a Dhow sunset sail, Swahili dinner and bonfire celebration at Manda beach. The opening yoga session was on the Shela beach on the shore of the Indian Ocean which itself was idyllic.
There were well over 400 guests and teachers on hand to not only have their first yoga session but also to meet other yoga lovers who came all the way to Kenya for this five-day fest.
The Lamu Yoga Festival is either the largest or second largest (after South Africa's) festival in Africa. Either way, interest in yoga, says Monika is taking off all over the continent.
Her feeling is that wellness and yoga have become increasingly important as Kenyans are having health problems, such as diabetes, cancer, obesity, stress and even suicide which were previously rare in the region.
Her view is that yoga and meditation combined with breathing techniques can not only relieve stress but also open up the mind to other means of healing and wellness.
One of the courses that is being taught during the festival is on 'The Art of Living' which is a program of wellness based on yoga, meditation and breathing. It is also the program through which Monika came to know her yoga teacher Sri Sri Ravi Shankar who is the founder of 'The Art of Living.'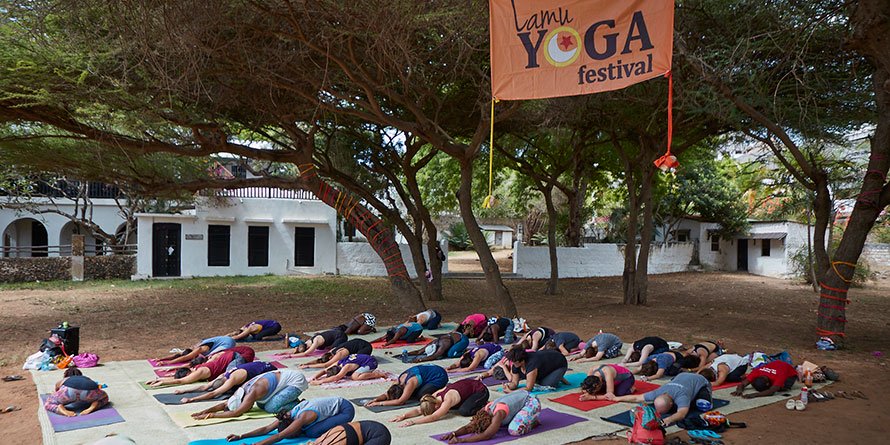 A spiritual guru who has been all over the world, serving as a Peace Ambassador in trouble spots like Palestine and Syria, and speaking everywhere from the United Nations to the African Union, Monika says he will come to Kenya later this year after visiting Nigeria and Ghana.
"Today there are two billion people in the world who practice yoga, but relatively few of them are in Africa," says Monika. "My teacher says he doesn't know why Africa should be left behind in terms of people reaping the health benefits of yoga and meditation."
Before becoming a Lamu hotelier and yoga teacher, Monika had been a fashion buyer in Holland. Her work was stressful and hectic. But then, after discovering yoga and the art of living, she was able to clear her mind and re-appraise what was really important in her life.
"Then in 1997, I took a trip to Kenya to see my sister who was a medical doctor in Kisii. After that, I went back to Amsterdam, sold my house and car and moved to Kenya," she recalls. It wasn't long thereafter that she moved to Lamu and began teaching yoga.
"I realized the importance of having a healthy lifestyle and helping others see they could earn a living teaching and practicing yoga."
Credit: Source link