Central Organization of Trade Unions (COTU) Secretary-General Francis Atwoli on Wednesday, May 27, revealed that differences between him and Lawyer Ahmednasir Abdullahi stem from way back.
Speaking on JKLive, the trade union leader disclosed that his first clash with the lawyer involved Ksh100 million which Abdullahi was reportedly seeking after offering legal services to the National Bank of Kenya.
Atwoli served on the bank's board at the time and was opposed to the payout arguing that it did not correspond with services rendered by the lawyer.
"I don't want to talk about Grand Mullah, We had a very big battle with him when I was at NBK where he was demanding about Ksh100 million for a job not done.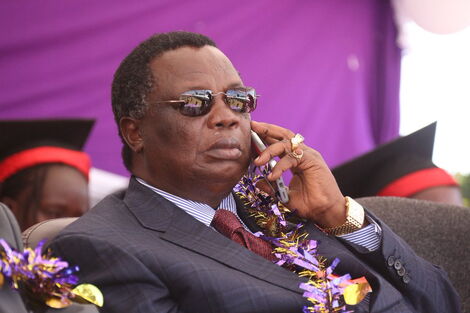 "When I opposed it during a board meeting, they appointed me to go and negotiate with him," he stated.
During negotiations, Atwoli disclosed that he managed to significantly reduce the lawyer's pay adding that in his opinion, the law firm was earning more than what they worked for at the bank.
"He should not compare himself with me, he should compare himself with my sons. The Grand Mulla should keep quiet," added Atwoli.
Francis Atwoli on claims he is illiterate: I was in the US doing a Trade Union course… Grand Mullah should not compare himself with me but with my sons…He should keep quiet#JKLive
@KoinangeJeff pic.twitter.com/5HnAObycl3

— Citizen TV Kenya (@citizentvkenya) May 27, 2020
Atwoli was responding to the senior counsel's claims on the same show that aired on Wednesday, May 20, that he (Atwoli) was not literate enough to serve as the advisor to the president.
"What advice can Atwoli give the President? Atwoli is barely literate. Maybe crack jokes or throw telephones," stated the lawyer, referring to an incident where Atwoli threw his phone when it rang interrupting an interview.
While on the show, Atwoli also praised Deputy President William Ruto's silence even as his allies get ejected from top seats in the Jubilee Party explaining that it was time for politicking.
Full interview on JKL show on Citizen TV:
Credit: Source link