The body of a woman was on Sunday, May 31, found stashed in a sack at the Tumaini Primary School playground in Umoja Estate in Nairobi.
Locals in the area were driven to the school by the foul smell emanating from the compound. They stated that they had not heard of any suspicious movements in the area in the recent past.
Buruburu OCPD Adamson Bungei suspected that the murder could have been as a result of domestic violence.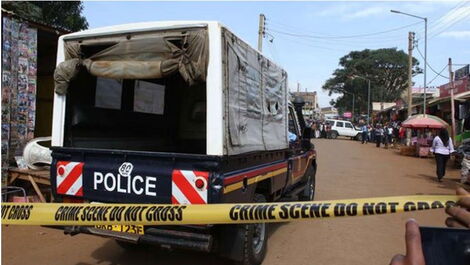 Further, Bungei stated that the crime could have been committed during curfew hours, mostly because locals were in their houses at the time.
"We have launched investigations and are looking forward to knowing how the body got to the scene," Bungei stated.
Personal items were also found stashed in a separate sack including; bed sheets, mosquito net and some clothes.
On Monday, April 6, United Nations (UN) chief António Guterres called for measures to address the surge of domestic violence during Covid-19 pandemic.
Guterres was backed up by Health CAS Mercy Mwangangi on April 14, who reminded Kenyans that the law would catch up with offenders who committed crimes in the wake of Covid-19.
"Fellow Kenyans cognisant of the measures we have taken in the fight of this disease, we are now witnessing a spike in domestic violence, gender-based violence and sexual offences.
"We are calling on Kenyans to focus on fighting the virus and to handle the disputes within the laid down civil structures and be void of any violence," she added.
Credit: Source link