Since the days when state-owned Voice of Kenya (VoK) was the only media operation in the country, the industry has come a long way with the radio sector best encapsulating the growth.
Privately-owned stations in the country increased significantly in the late Nineties and early 2000s, leading to a whole new world of entertainment for many Kenyans.
With the number of stations constantly rising, a scramble for talent characterized the scene with some radio presenters credited with single-handedly boosting ratings of various shows and stations.
In this article, Newszetu takes a look at the top radio presenters across mainstream radio stations in Kenya.
Radio Jambo Presenters
Radio Africa Group-owned Radio Jambo boasts of a large audience in the country drawn in by, among other things, its relatable Swahili programming and sports content.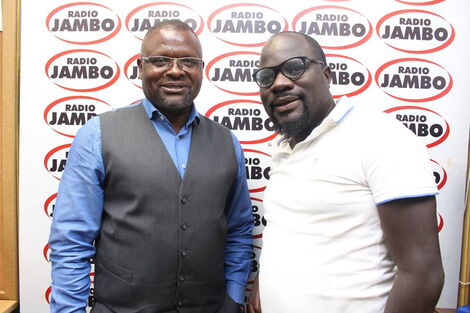 Gidi Gidi and Jacob 'Ghost' Mulee
The combination of Gidi Gidi, real name Joseph Oyoo and former Harambee Stars coach Jacob 'Ghost' Mulee has been a hit over the years with their show, Gidi na Ghost Asubuhi, one of the most listened to in the country.
The morning show airs from 6 a.m. to 10 a.m, with the pairing of artist-turned-media personality Gidi and Ghost a recognisable sound for many Kenyans.
The duo is also credited with crediting one of the most popular segments on radio, Patanisho, which has them attempting to reconcile couples by calling them on air.
Massawe Japani hosts the popular mid-morning show Bustani la Massawwe on Radio Jambo. The former Nation and Milele FM presenter engages with listeners with her radiant, bubbly personality shining through.
The show itself addresses various issues and attempts to solve questions on life, family, money, relationships and more with an interactive format at its core.
Bramwell Mwololo
Bramwell Mwololo is another famous presenter at Radio Jambo. He hosts the political debate show, Mazungumzo Wazi Wazi as well as the interactive show Pembe za Kenya.
The debate program airs on Saturdays from 10 to 11 a.m and often features interviews with high-profile guests. On the program, Mwololo tackles serious issues affecting Kenyans.
Mbusii and Lion Deh
Mbusii is one of the most recognizable faces not just in radio, but in entertainment, in Kenya. He steers the drive show on Radio Jambo, known as Mbusii and Lion Teke Teke.
Alongside his co-host Lion, they have cultivated a cult following with the Reggae playlist and sheng' conversations in addition to various hilarious segments.
Some of the popular segments include Goteana, which has callers sending messages to other listeners, and Nyahunyo which sees the duo help individuals recover their debts by calling up the alleged debtors live on air.
Eudius Kigai 
Eudius Kigai is yet another talented radio presenter on Radio Jambo. She does it all and hosts two different shows on the station; Maskani and Injili Jumapili.
The presenter's confidence radiates on air, with Maskani airing every Monday to Thursday, from 8:00 p.m to 11:00 p.m. It features an informative, listener-centric approach.
She is also the host of Injili Jumapili, which airs from 6:00 a.m. to 10 a.m. every Sunday morning on the station, playing gospel music and interacting with church-going listeners.
Radio Jambo Football Presenters
Radio Jambo has cut a niche for itself with its coverage of sporting events, with local and international football leagues and tournaments prominently covered by the station.
For its live broadcasts of various matches, it has a stunning repertoire of commentators who regularly keep fans across the country informed and entertained.
Fred Arocho
Fred Arocho is one of the most famous football commentators in the country. Arocho is known for his skill in delivering high-octane football action to many Kenyans' living rooms.
To his credit, Arocho undertook training on professional sports broadcasting at Talk Sport, one of the biggest sports media companies in the world.
Diblo wa Kaberia
Diblo wa Kaberia is yet another famous sports presenter on Radio Jambo. The ardent Barcelona fan delivers sports news, analysis and more regularly on the station.
Peter 'Daddy P' Kirumba
Peter Kirumba is considered a veteran in sports broadcasting in the country. At Radio Jambo, he has grown a large following due to his skills as a football commentator.
Yusuf Kaona
Yusuf Kaona is firmly established among renowned football commentators in the country. Kaona has a knack for delivering captivating, insightful commentary making him a favorite with many football fans and listeners.
Homeboyz Radio Presenters
G Money and Calvin Wanguku
G Money and Calvin Wanguku are among the most popular radio presenters at Homeboyz. Together, they host the show G Money in the Morning which airs on weekday mornings from 6 a.m to 10 a.m.
The show features fun, laughter-filled discussions on topics around regular life, bits of inspiration, updates and interviews with opinion-shapers and newsmakers.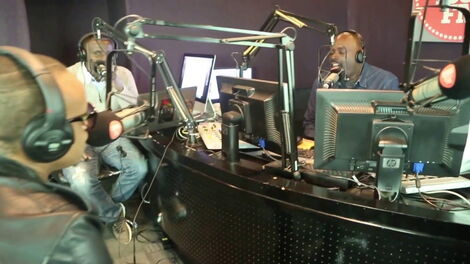 Corine Onyango
Corine Onyango, who hosts the night hip-hop show The Jumpoff, has also cut a niche for herself with her dedication to pushing hip-hop culture in the country.
With Homeboyz Radio branding itself as Nairobi's Home of Hip-Hop Culture, The Jumpoff has arguably grown to become the most popular hip-hop program in the country, with several big-name interviews and exclusive releases.
Mr Kerry Martin
Mr Kerry Martin is one of the hosts of the Ignition Drive,  christened the Ignition Drive Boys' Club due to the combination of Martin and Mike Wachira.
The show runs from 3 p.m. to 7 p.m. on weekdays, and has a large following due to its hilarious talk show approach that incorporates a lot of on-air jokes, puns and funny stories.
Mike Wachira
Mike Wachira hosts Ignition Drive Boys' Club alongside Kerry Martin, with the duo's chemistry contributing to the show's success.
Wachira is a trained human rights lawyer, and also works as an event MC and a DJ. The presenter's run on radio spanning over eight years has seen him emerge as a fan favorite.
Frankie Theuri 
Other than working as the Head of Operations at Hype Group, Frankie Theuri doubles up as a content executive at Homeboyz Radio and co-host of The Jumpoff with Corine.
The presenter also works closely with DJ Creme de la Creme and played a key role in the planning of some of the biggest events held in Kenya in recent years.
Classic 105 Presenters
Maina Kageni and Mwalimu King'ang'i
Maina Kageni and Mwalimu King'ang'i are some of the biggest names on Kenyan radio largely due to their morning show.
The show encompasses classic hits and various segments including listener call-ins, relationship advice and funny conversational bits with Maina and King'ang'i.
Mwalimu King'ang'i, real name Daniel Ndambuki, is better known by his TV comedian persona of Churchill. On radio, he shines just as bright as he brings the comedic element to one of the country's top radio shows.
Kageni, on the other hand, is a veteran on Kenyan radio and has made his voice almost synonymous with Classic 105, with his morning show drawing high ratings particularly in urban centres.
Harriet Kinga
Harriet Kinga is known to many as the host of the Classic Cafe show on Classic 105 which airs on weekdays between 10 a.m and 3 p.m.
She revealed in a past interview that she studied medicine at the University of Nairobi for three years before quitting to pursue her journalism dream.
Kinga enrolled at Daystar University to study Communication and Public Relations and has since emerged as one of the most recognizable voices on radio.
Mike Mondo
Mike Mondo is a long-time fan favorite on Kenyan radio, having previously hosted the HomeRun on X Fm.
At the moment, he hosts the drive show on Classic 105 alongside Terry Muikamba, otherwise known as 'Miss Sunshine'.
Their chemistry stands out on air, with Mondo also known for his unique voice that has seen him secure several gigs as a voice-over artist.
Terry Muikamba
Terry Muikamba is a lawyer and voice-over artist, who works as a co-host on the drive show on Classic 105 alongside Mike Mondo.
She calls herself 'Miss Sunshine', fitting given her radiant personality and positive outlook on life which she shares with her listeners.
Muikamba is no stranger to the radio industry and formerly worked alongside Willis Raburu at Hot 96.
Dr. Love
Dr. Love hosts a late-night relationship advice show on Classic 105 that has a loyal, large following.
The show has Dr. Love, in a husky voice, responding to questions from listeners on various relationship issues they are facing.
His identity, however, remains a secret with the station ensuring it adds to the mystery and curiosity around the show.
Kiss FM Presenters
Andrew Kibe
Andrew Kibe shot to fame with viral videos on Facebook, before eventually transitioning to radio. Currently, he hosts the morning show on Kiss FM alongside Kamene Goro.
The show airs from 6 a.m. to 10 a.m, and features hit music coupled with discussions on current affairs, relationships and trending topics.
Kamene Goro
Kamene Goro is one of the most recognisable media personalities in the country and has cultivated a following with her sassy personality.
She brings a unique element to the morning show on Kiss FM, and often counters Kibe's extreme viewpoints on various issues while maintaining her own edge.
Rae Kiragu
Rae Kiragu is an experienced radio host and is known for her radiant, fun personality. At Kiss FM, she hosts the mid-morning show on weekdays. from 10 a.m. to 3 p.m.
She was previously at Homeboyz Radio and is known for keeping fans engaged during her show through an interactive, relatable approach.
Nick Ndeda
Nick Ndeda is yet another experienced voice on radio who continues to rules the airwaves. The multi-talented presenter hosts the drive show on Kiss FM alongside Lynda Nyangweso.
He used to host the morning show on X FM, and is known for his jokes and light moments on-air which keep his shows fun and interesting.
Lynda Nyangweso
Lynda Nyangweso has spent many years at Kiss FM and currently hosts the drive show alongside Nick Ndeda. She has an in-depth understanding of the industry and has built up a loyal audience.
Nyangweso is known for her knowledge of all things entertainment and her strong, exciting on-air personality which grab's listeners' attention.
Jinx
Jinx, real name Arthur Omollo, hosts Kenya's Most Wanted on Kiss FM on weekday evenings. Jinx is known for his knowledge of the local and international hip-hop scenes.
He regularly premieres new music and offers insights into various happenings in the music industry.
Formerly at Homeboyz Radio where he co-hosted The Jumpoff with Corine Onyango, he has since become a prominent media personality in his own right.
Milele FM Presenters 
Alex Mwakideu
Alex Mwakideu has cut a niche for himself with his crisp Swahili addressing relatable social issues on his morning show on Milele FM.
Having been in the industry for several years, his experience stands out as does his chemistry on-air with comedian Jalang'o.
Their morning show often sparks intense discussions online and features various interactive segments listeners have grown to love.
Jalang'o
Jalang'o otherwise known as Jalas is one of the most sought after media figures in the country, and other than hosting a morning radio show with Alex Mwakideu is involved in several other projects.
He produces his own content online including a new online series Bonga na Jalas, and works as an MC in addition to acting in TV commercials.
His trademark humor has seen Jalang'o become a hit with radio listeners, with his hilarious takes on various social issues boosting the show's popularity.
Francis Luchivya 
Previously at Royal Media Services (RMS), Francis Luchivya has become a popular figure at Milele FM as host of the drive show from 3 to 7 p.m.
Luchivya is known for his authoritative take on issues and easy-listening approach as he hosts various programs, having made a name for himself at Mulembe FM.
He hosts the drive show on Milele FM alongside comedian and actress Jacqueline Nyaminde alias Wilbroda.
Wilbroda
Jacqueline Nyaminde alias Wilbroda of the Papa Shirandula fame hosts the drive show on Milele FM alongside Francis Luchivya.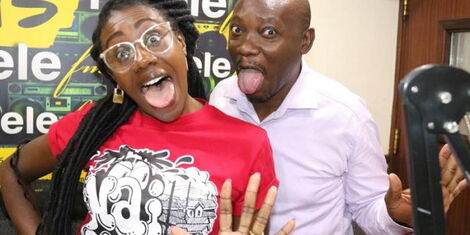 She shot to stardom as a TV actress but transitioned seamlessly into radio, first becoming a hit with Hot 96 listeners before moving to Milele.
At Milele, Wilbroda brings comedic relief to the drive show and addresses various issues in the show designed to be fun and engaging.
Credit: Source link