Former Majority Leader in the National Assembly Aden Duale on Monday penned an emotional response following his removal and subsequent replacement.
Thank you for reading this post, don't forget to subscribe!
The Garissa Town MP, who was removed following the ruling party's PG meeting chaired by President Uhuru Kenyatta, took to his social media pages to highlight some his achievements during his tenure which lasted close to eight years.
Duale said during his tenure, he oversaw the passage of 200 bills and 500 motions, adding that all the bills for the implementation of the Constitution 2010 were passed under his leadership.
Deputy President William Ruto also hailed Duale as a great leader, saying he (Duale) discharged his responsibilities as Jubilee Majority Leader in the National Assembly with style, precision, passion and loyalty.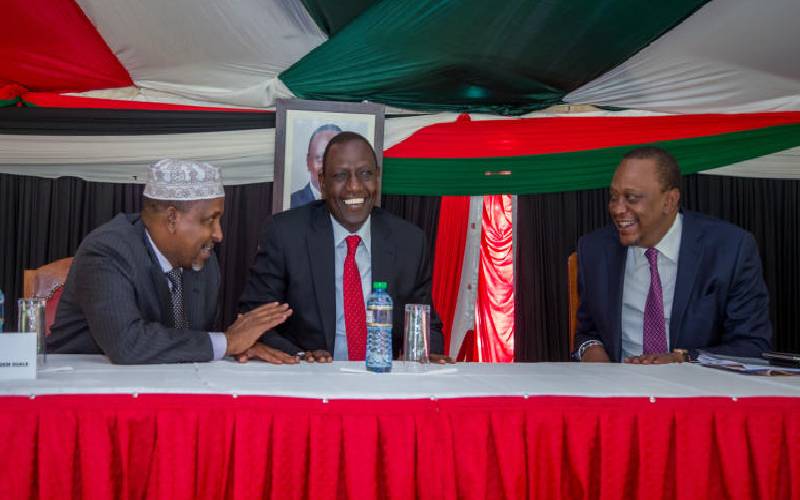 "My brother Aden Duale, you are a great leader. For the last 8yrs, you discharged your responsibilities as our party's 1st majority leader with style, precision, passion and loyalty. My friend, when parliamentary history is written you will have a chapter. Mbele iko sawa na Mungu," Ruto tweeted on Monday.Here is Duale's response
I came, I saw and I conquered.
Today marks the end of my seven years of service to the great people of Kenya as the Leader of Majority of the National Assembly. I was the first occupant of the seat under article 108 of the constitution.
I am glad that from 2013-2020 I was able to process the agenda of the Majority Party effectively. In particular, I oversaw the passage of over 200 Bills and 500 Motions to mention but a few.I am particularly proud that during my years' service, I was also able to ensure that all the Bills for implementation of the Constitution, financial legislation to implement devolution and provide services to the people of Kenya and Bills to implement the Big Four Agenda were enacted.This was not an easy task but one which required that I work with everyone, be it foe or friend and in the end and with the help of Allah, I delivered.
I indeed thank my party leader H.E Uhuru Kenyatta, for having given me the opportunity to serve the great people of Kenya and for this I am grateful. I equally thank the Deputy President, the entire jubilee members of parliament and my family for their support during this period.
But like I have said before, public positions are not to be personalized. When you are given a position you do your best and when time comes for you to leave, you leave with a smile.
You can however only leave with a smile if during your years of service, you executed your duties with zeal, diligence and dedication. I am glad that today, I leave with a smile, being proud of what I was able to achieve.
Finally, to my brother Hon. Kimunya, permit me to congratulate you for your new appointment.
Finally, I wish to thank all Kenyans for their support and in particular the great people of Garissa who I now look forward to continue working with for a great future.
As the first Leader of Majority Party in the Constitution of Kenya 2010, I can now pen down this for history and record:
I came, I saw and I conquered.
Hefty perks
Duale will lose hefty perks including allowances, official cars, bodyguards and plum office with the support staff at Parliament Buildings.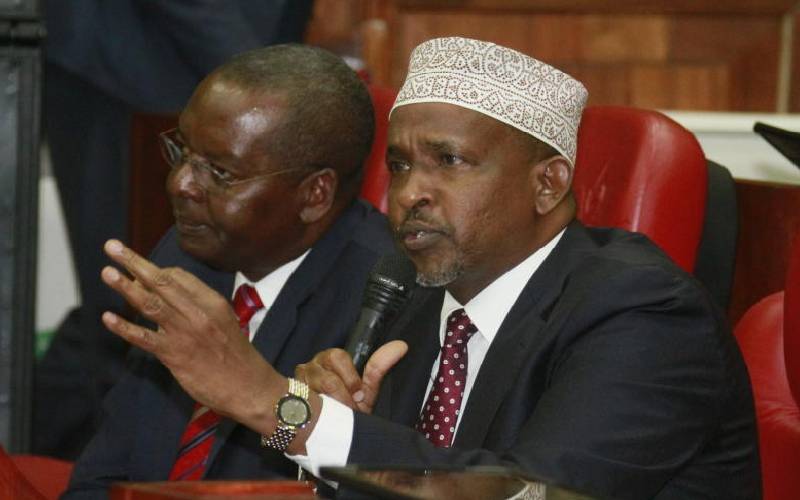 The 22-minute PG meeting at KICC saw Duale replaced by Kipipiri MP Amos Kimunya, meaning he will have to contend with slashed allowances and lose other privileges
He had been entitled to higher pay packages compared to his colleagues and enhanced security and vehicles paid for by the government. Currently, a Majority Leader takes home Sh1,056,000 monthly salary.
He will also lose offices and extra staff who were fully paid by the Public Service Commission.
In terms of salary, majority and minority leaders earn slightly over Sh200,000 and responsibility allowance of about Sh138,000 monthly which Duale will now not be entitled to.
By virtue of the office, Duale had three top-range GK vehicles at his disposal. He also had a more lucrative car fuel card and a further Sh300,000 monthly for hospitality.
Officials said those officeholders also have staff hired for them, including a researcher, policy analyst and legal officer, a secretary, personal assistant and an office assistant.
Credit: Source link