Fresh from winning a court battle against them, veteran Uasin Gishu farmer and politician Jackson Kibor has opened up on his strained relationship with the four sons he took to court.
Kibor, 88, won a court case against his sons. He had claimed that his estranged third wife and four sons were plotting to sell off his 1,500-acre farm in Kebenes.
Before the endless family wrangles and disputes that culminated in long-running court battles, Kibor was a happy family man who could sometimes be seen with his sons supervising maize and wheat deliveries at the National Cereals and Produce Board stores in Eldoret.
He was a common figure in Eldoret's evening life, driving himself around in his Mercedes S320.
The evening retreats have largely whittled down since he married his fourth wife Yunita in 2002, and with whom they have four children.
Kibor, who has vast farms in Uasin Gishu and Trans Nzoia, divorced two wives- Josephine Jepkoech and Naomi Jeptoo in 2018.
Mary, his first wife, died in 2010.
Two years later, Kibor was back in the news, this time suing his five sons for allegedly taking over his land.
Still, the octogenarian is a jovial man who is always ready to discuss anything, ranging from local and international politics to his strained relationship with his four sons, who he accuses of profligacy.
"They sold all properties that I allocated them," he says.
One of his sons' Ezekiel, denied these claims.
Family property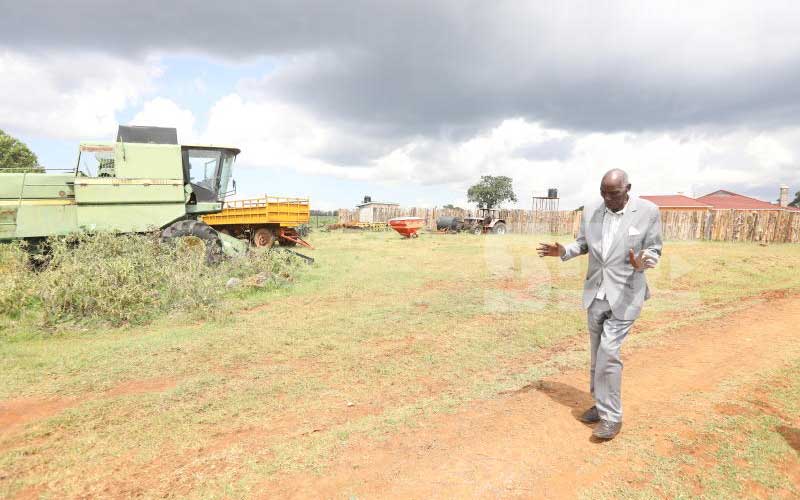 Kibor claims that among the properties his sons co-owned with him were three acres in Nairobi's Karen estate, a prime property in Nyali, Mombasa and a five-acre plot in Elgon View estate, in Eldoret.
He claims he also gave the sons farm machinery, which they either sold or exchanged with smaller machines.
"I also gave them two heavy trucks, which up to now I have never known where they were taken or sold, although I hear they were taken to Mombasa. If they can sell a tractor, what will they use to till the land?" posed Kibor.
He claims he gave his sons the best education at high-end schools in Nairobi, where he was paying Sh200,000 a term.
"They are now threatening me," he says.
On why he only has problems with four sons he got with Jeptoo, who he divorced in December 2018, Kibor claims these are the only ones who have been colluding to sell off some of his property, which he vows to protect with his life.
"All the title deeds for the farms are in my name, unlike the other property that was sold. That is why they cannot get it," he said.
Before the marriage hit the rocks, Kibor used to live with Jeptoo and her six sons in Kebenes. After their marriage ended in an acrimonious divorce in 2018, the veteran farmer and politician started complaining that the sons and their mother were leasing his land to strangers.
"Whenever I go to Kebenes, I find strangers on my farm," he says.
"If they want to till the land, let them do so, but if they want anything else, then they should pack and go," he said.
Today, Kibor splits his time between his farms at home at Chepkoilel near Eldoret University, which he built for his fourth wife, and Eldoret town, where you will find him in deep conversation with the young and old on the latest developments in the country and farming.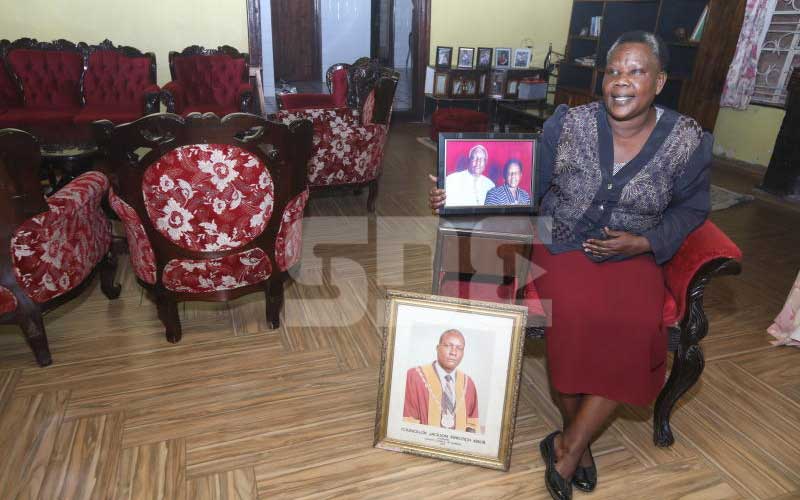 Shrewd investor
Those who know him describe him as a hardworking and shrewd investor.
"From Press reports, people take him to be a very belligerent man, but he is only worried that those close to him might mismanage the property that he has accumulated over the years," says Peter Rono, a farmer at Ziwa.
"He invested heavily in mechanised farming, buying tractors and harvesters. He later acquired heavy trucks to ferry goods from Mombasa to Kampala," says Rono.
Kibor divorced his two wives within a span of 14 months before training his guns on his four sons. The confrontations between father and sons have sometimes required police intervention.
He divorced Jepkoech after living with her for 53 years, two months before filing the application to dissolve his marriage with Jeptoo after living with her for 43 years.
Kibor then sued two of his sons for causing him distress and tainting his image, claiming they trespassed on his 1,543-acre farm.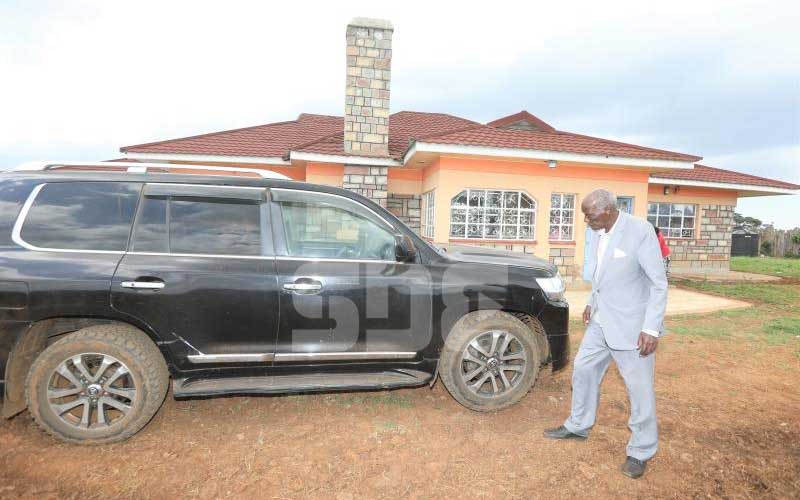 Speaking to The Standard yesterday, Kibor said he had no problem with his 25 children, save for the four sons from his marriage with Naomi, who he accuses of giving him sleepless nights.
"My first wife Mary had nine children on our farm in Kitale, but two died. The second one had eight, although I don't think one was mine. Naomi has six but one died and now Yunita has four children," he said.
Rags to riches
His is a classic rags-to-riches story. A young Kibor was first employed by a settler white farmer as a farm labourer before independence.
He was later hired to drive lorries for local farmer, Jonathan Kibogi (now deceased) in 1958. Like Kibor today, Kibogi owned several properties in Eldoret town.
After driving around East Africa selling Kibogi's farm produce, Kibor says he saved enough money to buy his first piece of land, some 836 acres at Kipkabus.
"I had saved about Sh40,000, which was a very large amount of money at the time, and also secured a bank loan that the government guaranteed local Kenyans to buy land from departing white setters," he says.
It was on this first property that he settled with his first wife, Mary, and used as a launch pad for his successful farming business that includes 1,543-acre Mafuta Farm at Kebenes, 357 acres in Moiben and a 1,160-acre dairy farm in Kitale.
Credit: Source link