The Law Society of Kenya (LSK) on Thursday, June 11 issued a strongly worded statement condemning threats to the life of the society's President Nelson Havi.
It alleged that Havi received death threats after backing the Judiciary in an ongoing spat with the Executive, with Havi announcing a plan to petition the Senate and National Assembly to impeach President Uhuru Kenyatta.
North Rift Branch Chairman Joshua Maritim called for the Directorate of Criminal Investigations (DCI) to urgently look into the matter and take action on those culpable.
He maintained that the right of all Kenyans to voice their discontent with the government and its activities was protected by the Constitution.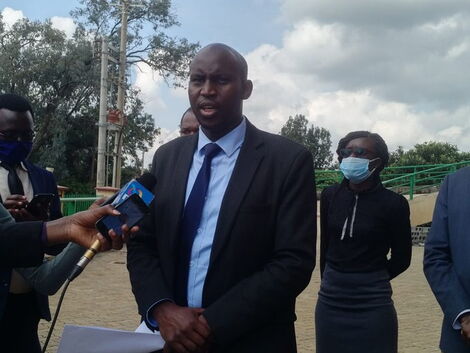 "Our concern is also drawn to threats to the life of the President of the Law Society of Kenya, Nelson Havi over his statement calling for the observance of the rule of law, justice and respect for the Constitution.
"We wish to condemn in the strongest terms possible those who have made threats to the life of Mr Havi, the President of the Law Society of Kenya.
Maraga had decried the delay in appointment of judges stating that it would only result in greater delays for cases pending in courts across the country.
"I must remind you, your excellency, that you swore to defend and uphold the constitution and the laws of Kenya. The constitution requires you to appoint the judges recommended to you by the JSC which you have refused to do," he stated on June 8.
Maraga urged President Uhuru Kenyatta to move fast in appointing the 11 judges of the Court of Appeal and 30 judges of the High Court.
He disclosed that the backlog in many courts was only adding a burden on Kenyans' shoulders, further offering the situation in North Rift for perspective.
"The strain is felt even more in North Rift where 2 judges of the Environment and Land court serve 3 counties. Counties such as Elgeyo Marakwet and Nandi have no High Court stations and all their cases in the High Court are brought to Eldoret," Maritim noted.
In light of the recent tiff, the statement also called for the office of Attorney General Paul Kihara Kariuki to work closely with that of Chief Justice Maraga.
"It does not serve Kenyans to have a spat between the Attorney General of the Republic of Kenya and the Chief Justice of Kenya. The offices are key stakeholders in the Justice sector and ought to work together," Maritim asserted.
Credit: Source link