2015/2016 English Premier League champions Leicester City FC the foxes, signed gifted 12-year-old Kenyan winger Brooklyn Mwadime Kazungu in March 2017 after a single trial session.
Under normal circumstances, clubs usually invite players in Kazungu's age bracket for a 6-week period, but such was his natural talent, that the foxes offered him a contract on the spot.
His dad, George Kazungu, was full of pride as he described the day his son was offered his first professional contract.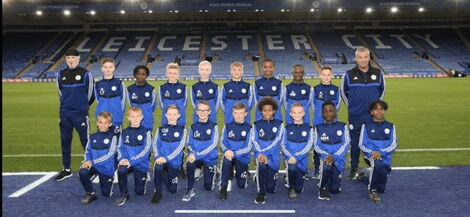 "He was first scouted by Tottenham Hotspur and Reading FC and he went on to train at both clubs for a while.
"But one day I got a call from Leicester City FC who offered Brook an invite to a tournament they had organised pitting their academy players against prospective players. I said yes and on the day, he had his best game yet.
"After the session, he had that day, the Leicester coaches liked him and signed him on the spot. Normally you get a 6-week trial but it was simply a blessing, they just asked me to bring his documents the next day," Mwadime's dad recounted with a beaming smile of pride.
"He always had a ball or something he can kick around from the time he realised he could walk, but he started structured football when was eight years old at Two Mile Ash, a grassroots team in Milton Keynes," his father, an ardent Arsenal FC fan, disclosed
Mwadime has since grown into one fo the most gifted youngsters across Europe, scoring 74 goals since signing for the foxes, despite mostly playing as an out and out winger.
"I can play anywhere really, but the positions I love are, playing on either wing, Centre Midfield, Centre Attacking Midfield or the Striker's role," he stated via a video link interview with Citizen TV on June 10.
On matchdays, he is often utilized on both wide flanks, where he has shown superb offensive attributes and exceptional flair.
He is yet to make a decision on which country he would choose to represent when it came to international football, as despite being one of Kilifi's very own sons, the fact that he was born in the UK makes him eligible to represent them as well.
"I'm not really thinking about that right now. I am purely focused on improving all aspects of my game. It's the only thing that matters because this is how will be able to better myself and stand a chance of being considered as an international player," he explained.
Pro Performance Global, the football development institution where the young Mwadime started out, had glowing remarks for the player whom they touted as one tipped for success in the game.
"We are immensely proud of Brook and wish him and his family good luck in the future," reads a statement on their website.
Credit: Source link