Two suspected police imposters from Nakuru Town East were on Friday, May 28 arrested after confronting real officers on night patrol.
While aboard a motorcycle, the suspects reportedly stopped plain-clothes police officers, who were patrolling Mwariki area on foot.
Nakuru East Sub-County Police Commander Elena Kabukuru told The Standard that the suspects couldn't produce work identification documents upon arrest.
"The two were riding on a motorbike when they confronted four of our officers, who were on night duty. Our officers reacted by subduing the two before asking them to produce work-related documents," said Kabukuru.
"One of the suspects was dressed in a police jacket, while the other was sporting military boots, and was in possession of handcuffs."
The area police boss said the suspects, after being busted, claimed they were attached to a Nakuru Police Station, but couldn't provide proof.
Investigations into the backgrounds of the duo established that they were fake cops, Kabukuru said.
It was discovered that one of the suspects was a minor aged 17, police said.
The suspects were arrested and taken to Mwariki Police Station for interrogation.
The two are said to have revealed the identity of a third suspect, whom they have allegedly been colluding with to extort money from unsuspecting residents.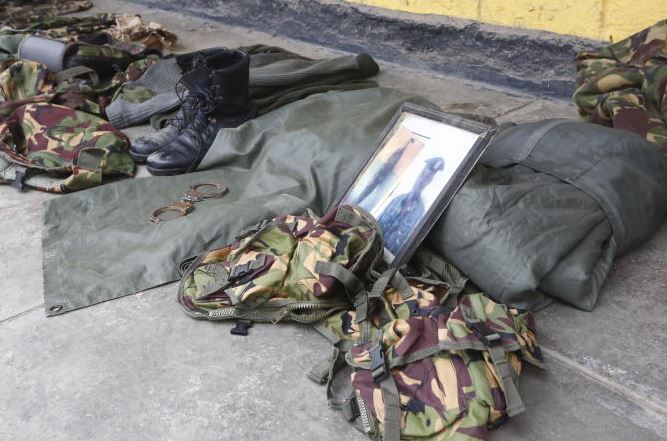 When police visited the third suspect's home on Saturday morning, they did not find him, but recovered assorted military and police uniforms, among other items.
"The third suspect has been identified as Alphonce Juma. We recovered police items in his car. Inside his house, we found police jackets, military sweaters, berets, boots, a medical bag, elbow and knee caps, and photo-shopped pictures of Alphonce and the other two holding guns," said Kabukuru.
Alphonce's neighbours were shocked by the discovery.
"For the longest time, we have known him to be a military officer. He is always dressed in army uniform when visiting shops or entertainment joints," said the third suspect's neighbour.
Police suspect the three have been using the law enforcement officers' paraphernalia to extort money from locals.
"The suspects will on Monday, May 31 be charged with personating police and army officers, being in possession of police items against the law, and flouting the 10 pm to 4 am curfew directive," said Kabukuru, revealing a hunt for the third suspect is on.
Credit: Source link