It's back — and back more than ever. Thanks to the midseason World Cup, the Champions League group stage wraps up early this year, ending on Nov. 1. That means we've got Champions League action in six of the upcoming 10 weeks, including this week and next.
So, before the flurry begins, let's set the stage. I've ranked all 32 teams based on three separate factors: 1) their betting odds to win the whole thing, 2) the rating from the consultancy Twenty First Group, which takes player quality into account, and 3) the rating from ClubElo.com, which ranks teams purely based on their historical results. Here's how things look heading into matchday one.
---
I'm not saying that Josh Cohen is going be starting for the USMNT come Qatar. I am also not saying that he, a 30-year-old person you've very likely never heard of until right about now, will ever even get a cap for the national team. All I'm saying is that he's the defending Israeli player of the year, the U.S.'s goalkeeping situation isn't all that great right now, and a USMNT-eligible keeper is about to get the chance to make approximately 1 million high-profile saves against Mbappe and Messi over the next few weeks.
If it's going to happen, this is how it would.
---
Last week, Andreas Cornelius joined Copenhagen on a permanent basis for the third time in his career. He's 29 years old. I love this model. You let your star prospect move on, but whenever things don't work out, you basically keep a space open for him on the roster. Cornelius had one genuinely great season with Parma in 2019-20 and has otherwise disappointed for everyone outside of Copenhagen — save for last season, when he was the leading scorer for Turkish champs Trabzonspor.
I hope this isn't the last time we see him back in Denmark.
---
These guys lost their leading scorer from last season to the Saudi league and now they get grouped with Bayern Munich, Barcelona and Inter Milan. Tough. So, what should their goal be? I know every coach wants his team to think they can win every game they can play, but c'mon. Four points from six games feels like a reasonable ambition, no?
---
[Blows into a medieval bugle that both heralds everyone in earshot to stand at attention and also unfurls a giant flag with the CONCACAF logo on it]
American Owen Otasowie and Canadian Cyle Larin both play for Brugge — er, maybe "are employed by" is the better phrasing. Through seven league matches, they've combined for just 144 minutes of game time.
---
After nine months off, Shakhtar played their first competitive game in nine months on Aug. 23, a scoreless draw against Metalist 1925 in an empty Olympic Stadium in Kiev. They're in the Champions League because they were top of the table in April when the domestic season was suspended after Russia invaded Ukraine. Any kind of analysis feels pretty silly because, well [gestures wildly at the state of the world]. But Brentford, probably the sharpest club across all the Big Five leagues, tried to sign Shakhtar's Mykhaylo Mudryk for big money of the summer.
Keep an eye out for him when you, like everyone else, root for Shakhtar over the next couple months.
---
And here ends the bottom tier. While it wouldn't necessarily be a shock to see any of the other 26 teams make a run to the knockout rounds — outside of, say, Rangers, because of how tough their group is — this bottom six would all be Cinderellas were they still playing in this tournament after the World Cup.
Just in case you want to feel even more existential dread about the broken state of European soccer: Dinamo Zagreb have won the last five Croatian first-division titles, and 14 of the previous 15.
---
While both Benfica and Porto are lighting up the Portuguese league like they normally do, Sporting have struggled so far this season: eight goals for, eight conceded, and seven points from five matches. On aggregate, Sporting have been a notch below the other two over the past decade. But although they came into this season with a much healthier chunk of their squad intact than their closest competitors, early signs suggest we'll be seeing more of the same this year.
---
25. Celtic
24. Rangers
We're grouping the Scottish giants together because they're back in the group stages together for the first time since the 2007-08 season. All the matches at Ibrox and Hampden Park will be electric, but how serious of a threat will either side be? FiveThirtyEight rates Celtic as roughly equivalent to Brighton, while Rangers come in somewhere between Brentford and Wolves.
Neither side is likely to advance out of their group, but they're both good enough to cause problems against all of the richer sides they come up against.
---
Yes, they are tied with PSG through six matches, but on-loan Arsenal fullback Nuno Tavares is their joint-leading scorer, and they've produced a plus-10 goal differential from a plus-2.6 xG differential through six matches. It's a funny and possibly fun team — Tavares, plus former Arsenal players Sead Kolasinac, Alexis Sanchez, and Matteo Guendouzi, plus once-Premier League players Dimitri Payet, Eric Bailly and Cengiz Under — but it's hard to see this team doing anything more than getting eliminated in the Round of 16.
---
Over the past three seasons, Filip Kostic completed 136 open-play crosses into the penalty area — way more than anyone else in Europe. Around Kostic's very specific ability to precisely wallop a ball onto a teammate's head or other legal-in-soccer body part, Frankfurt built a zany, unique, effective and above-average team that was good enough to win the Europa League. Well, Frankfurt no longer have Kostic and really, neither do we. At Juventus, he's completed one cross into the penalty area through 300-plus minutes.
What are we doing here, people?
---
It's becoming everyone's favorite autumnal tradition: Tune in for the Champions League group stages to find out which teenagers and 20-somethings will inevitably be transferring to a big club near you for millions of dollars in a matter of months. Through seven games in Austria, Salzburg's average age is 22.8 — a full year younger than Valencia, the youngest team in Europe's Big Five leagues so far this season.
---
20. Benfica
Benfica had an interesting summer. Darwin Nunez left for Liverpool and they replaced him with a collection of not-as-old-as-you-think, not-as-good-as-you-thought names: David Neres from Shakhtar Donetsk, Julian Draxler from PSG, and John Anthony Brooks from Wolfsburg. They also brought in 21-year-old midfielder Enzo Fernandez, who has immediately slid into the starting XI, from River Plate.
It's not the kind of offseason that sets you up for an unlikely run to the quarterfinals or anything, but they're the kind of low-risk marginal upgrades that can at least maintain your level from the previous season despite the departure of a star goal scorer. Don't be surprised if they finish second — behind PSG, ahead of Juventus — in Group H.
---
With one win and four losses from their first five matches, Leverkusen have a better chance of being relegated (3%) than winning the Bundesliga (less than 0%), per FiveThirtyEight. They've been unfortunate — minus-3 goal differential, compared to a plus-1.6 xG differential — but they haven't been particularly good, either. They lost super-prospect Florian Wirtz to a torn ACL last March, and while they haven't done a ton to replace him, perhaps some more minutes for on-loan Callum Hudson-Odoi could raise their ceiling.
---
They turned a plus-5 xG differential into a plus-23 goal differential and an unlikely fourth-place finish last season. They were likely to regress anyway this year, but the bottom might have fallen out on what's the third-oldest team in Spain, adjusted by minutes played.
Through five games, they've allowed the second-most xG of any team in LaLiga. Outside of Tanguy Nianzou, the 20-year-old center-back acquired from Bayern Munich over the summer, there's not much upside on the roster — but there's plenty of downside.
---
It's a bit of a transitional year for Porto. Well, they all are, but this one is particularly so. Last season, they lost Danlio Pereira to PSG, Tecatito Corona to Sevilla, Sergio Oliveira (on loan) to Roma and Luis Diaz to Liverpool. And then, this summer, Vitinha (PSG), Fabio Vieira (Arsenal) and the manager's son, Francisco Conceicao (Ajax), followed them out the door.
More importantly, though, they have one outfield player who's featured in all 450 of the league minutes so far this season: Pepe. Yes, that Pepe — not Porto's other Pepe. He's 39; cherish him while he's still here.
---
In case you haven't picked up on the theme yet: I don't know what's going on here. Across Europe, it's been a really weird start to a season that promises only to get even weirder with a hyper-speed Champions League schedule and then a World Cup in the middle of it. Leipzig were quite good last season after Domenico Tedesco took over for Jesse Marsch. They added Timo Werner over the summer, hung onto all of their other top prospects, and came into this year with a young, deep and experienced squad.
Add that all up and you get … completely annihilated by a team that lost 5-0 to Bayern Munich: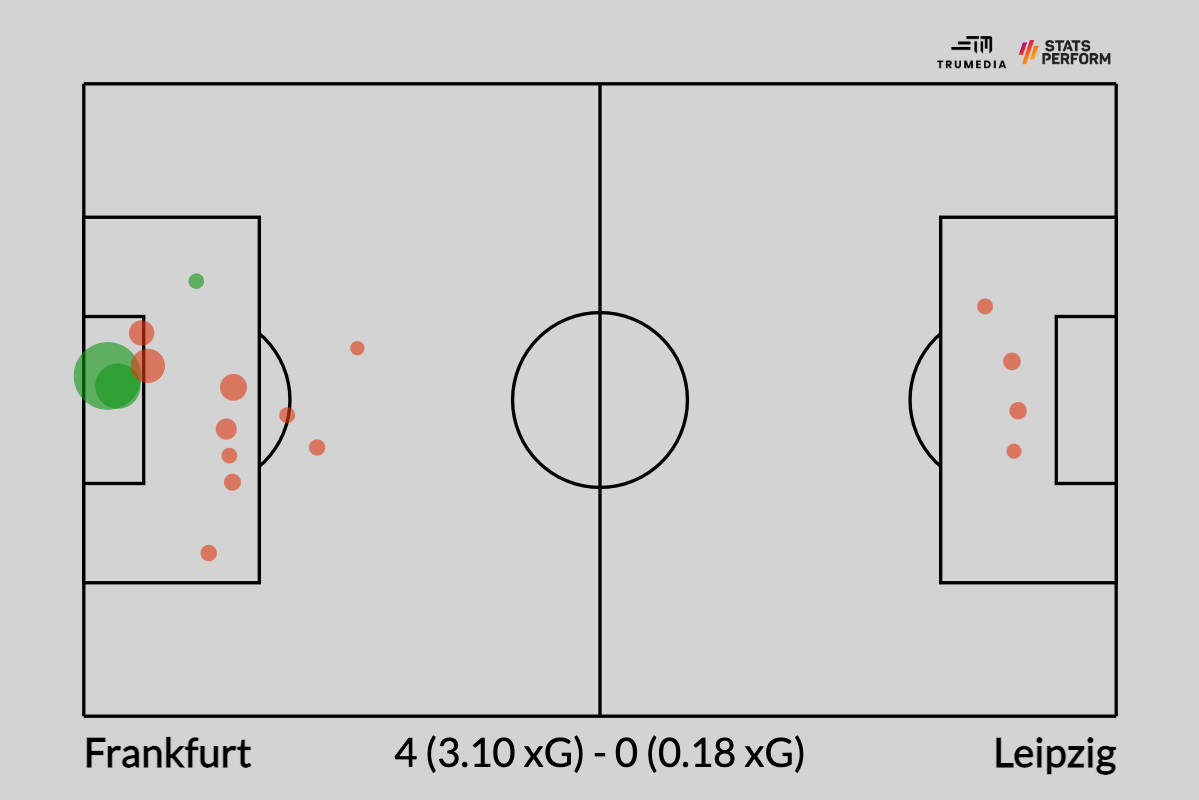 They're better than that — or at least they should be.
---
15. Juventus
This team … might be terrible? They're the only Big Five club in the tournament with a lower field tilt than Tottenham, they're allowing more shots than they attempt, they're conceding more penalty-area touches than they create, and they're basically dead-even on xG so far.
Look at this pass map from this past weekend's match against Fiorentina and see if you can figure out what Max Allegri's team was trying to do: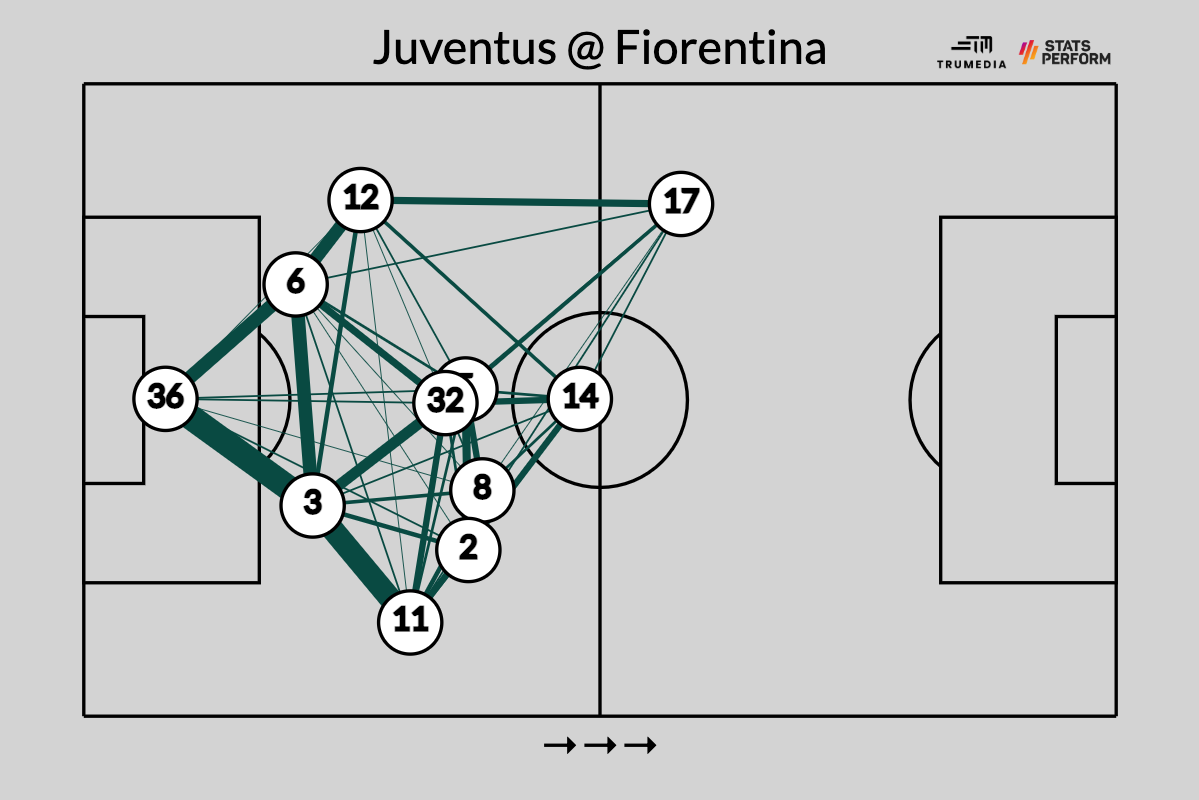 They're playing Filip Kostic, a wingback, as a pure winger. They signed Angel Di Maria. Arkadiusz Milik and Leandro Paredes are on the team now, too. What is the goal here? I just don't understand what's happening on or off the field. With Federico Chiesa injured, this team has basically been hopeless unless Dusan Vlahovic pulls a rabbit out of a hat.
---
It feels like this happens every year: Napoli blow the doors off Serie A for a month or two, look like the best team in the league, back it up with the best underlying numbers, and then it all just eventually peters out. Well, we're back at it again this season. Luciano Spalletti's side is tied with Milan atop the table, but they're leading the league in:
Goal differential
Expected goal differential
Field tilt
Penalty area touches
Plus, they have "Kvaradona." A summer arrival from Rubin Kazan, 21-year-old Georgian winger Khvicha Kvaratskhelia just won Player of the Month in Serie A. He has four goals and an assist, but numbers can't really do justice to what it's like watching this guy play.
Want to see someone take on seven defenders and then try to pick out the upper corner from 35 yards out and then act like he was forsaken by God because the ball didn't go in? He's your man.
---
What is this team's identity? On the field, that is. For a while, they were synonymous with Klopp's heavy-metal football, Thomas Tuchel then turned it into a slightly more cerebral version of rock music, and even during the failed tenures of Peter Bosz and Lucien Favre, they still had their own kind of attack-heavy emphases.
Now, after a year under Marco Rose and a return back to former interim manager Edin Terzic, what are they? What does an ideal Dortmund game look like? I genuinely do not know, and based on how often they've changed coaches, it doesn't seem like the club does, either.
---
12. Ajax
Under Erik ten Hag, Ajax competed with the best teams in Europe with a collection of Premier League cast-offs and uber-prospects, then they let go of all those prospects, added a few more cast-offs, cultivated a couple more prospects and competed with the best teams in Europe all over again. There's no reason to believe that they can't weather the losses of either Lisandro Martinez or Antony or even Sebastien Haller.
Replacing players like that is what they do — but what about the coach? It'd been a really long time since we saw Ajax compete at the level they reached over the past five years. That didn't happen until Ten Hag arrived, but will it continue now that he's gone? We're about to find out.
---
While I do think that Inter are a dark horse threat to win the whole thing, I wouldn't say the same about Serie A's defending champs. They're really hard to break down, and then when you do, you've still got to beat Mike Maignan, who's one of the five or 10 best keepers in the world. The issues, in terms of this tournament, are on the other end. They're still reliant on either Olivier Giroud or Zlatan Ibrahimovic at center forward, and the right-wing role — opposite Rafael Leao — is still screaming out for a Champions League-quality player.
Can they score enough goals to get out of the group stages this time around?
---
10. Inter Milan
On the one hand, Inter have already lost twice, including a title-race six-pointer against intra-stadium rivals AC Milan over the weekend. On the other hand, I thought Inter played about as poorly as they possibly could Saturday — and still were pretty unlucky to drop all three points: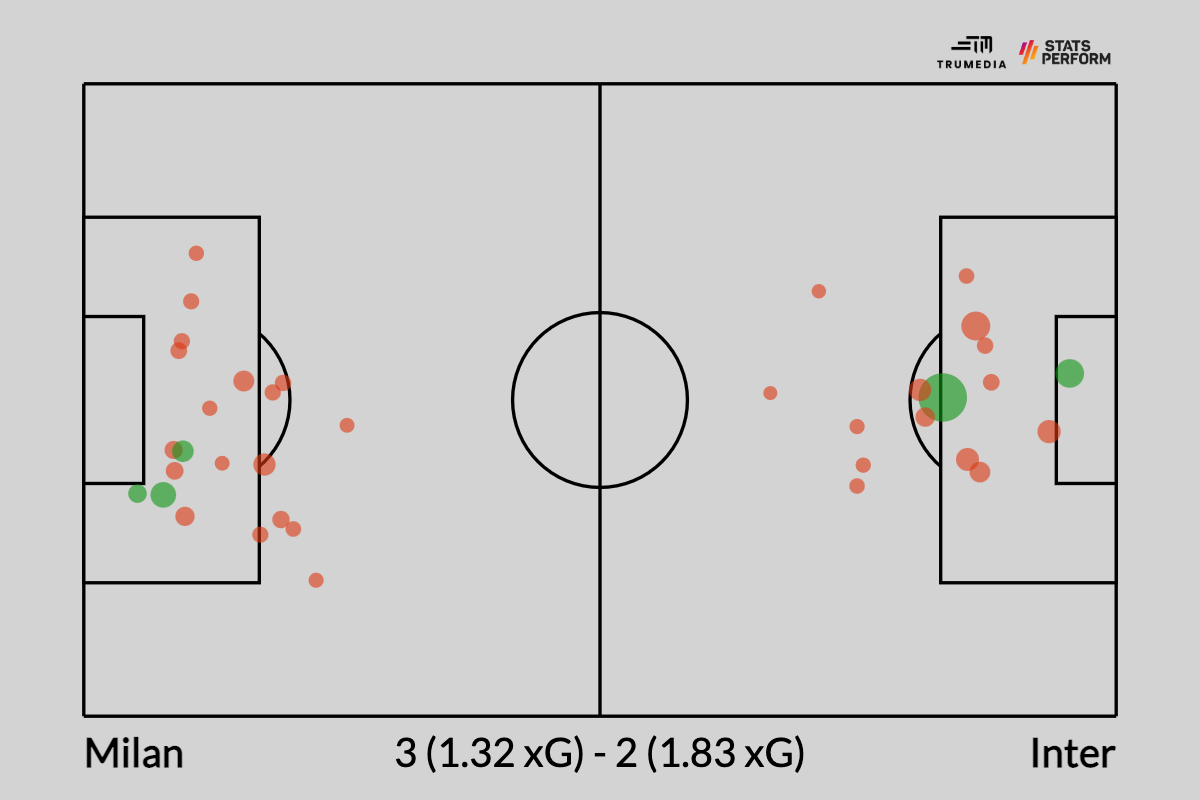 By xG, they were the best team in Serie A last season. They also played really well against Liverpool in the Round of 16, right in the middle of when Jurgen Klopp's team had started to fire on all cylinders. Inter could easily get out of their tough group — and could still easily win Serie A.
One thing to watch for: How much longer will Samir Handanovic get the nod in goal? The 38-year-old has really struggled to start this season, and Inter have former Ajax keeper Andre Onana waiting in the wings.
---
You know exactly how this team plays, and this season isn't going to be any different. Mayhem, aggro-aggression, quick ball-carrying counters, tons of deep defending, and multiple players seemingly surrounding the referee at all times. Most of the players are the same and if they're different, they're only different because Diego Simeone is convinced they're going to do a better job of doing the same thing as the guys they replaced.
Fun fact: If he doesn't leave in January, this could be the first full season Alvaro Morata has spent playing for the team that owns his contract since the 2017-18 campaign with Chelsea.
---
8. Chelsea
Through six games, Chelsea have a negative goal differential and a negative expected goal differential. They've simply been bad. Owner and de facto director of football Todd Boehly signed a bunch of good players — in a vacuum. The problem is how Thomas Tuchel sees it all coming together.
Chelsea have a lot of players who fit into the unique roles required by the back-3 concept — half-wingers who like to cut in and combine, fullback-center-back hybrids — but very few options up the gut, whether it be reliable center midfielders or players who can consistently put the ball into the goal. Despite all that, they've been lights out in the Champions League in each of the past two seasons.
They'll be better than this, but it's still unclear how they'll do it or how much better it can get.
---
7. Tottenham
They won the draw, insofar as one can, ending up in a group that includes four other teams that are outside of our top 20 and the top 20 favorites in the betting market. That, though, could provide its own kind of strange challenge for a team that has spent much of this season outside of their own attacking third. Through six matches, Spurs have completed a 39.5% share of all the final-third passes in their matches (also known as "field tilt") — the second-lowest number among all the teams from the Big Five leagues in this season's competition. What happens when they have six matches where they need to take the initiative?
With their ability to defend their own box and then attack at speed, Antonio Conte's side would be a nightmare knockout-round opponent for any of the clubs ahead of them. They just have to get there.
---
6. Barcelona
Long term, their summer was a disaster. Short term? Well, they added arguably the best goal scorer on planet Earth (Robert Lewandowski), reupped their most important player from last season (Ousmane Dembele) and eventually registered one of the better center backs around (Jules Kounde). The biggest question mark — and one that will get stressed heavily in a group that includes Bayern and Inter — is the midfield.
Can an increasingly immobile Sergio Busquets, fronted by some combination of Pedri, Gavi or Frenkie De Jong, really hold up against the best teams in Europe?
---
So, uh, Neymar and Lionel Messi, huh? Those guys might be pretty good? The former is leading all players in Europe's Big Five leagues with 13 goals+assists, while the latter is third (9). They're also tied for the lead in assists, with six apiece. With the switch to a back three, Christophe Galtier seems to have this thing working like we all expected it to work last year: Kylian Mbappe stretches the defense and flourishes from the incredible creative service of Messi and Neymar (seven goals, tied with Neymar for second-most in Europe), while the other two also take advantage of all the space he creates underneath.
Six games in, it looks as good as it's ever looked in Paris, but none of that matters until we see it work from March through May.
---
With the addition of Antonio Rudiger and Aurelien Tchouemeini, plus the internal development of some of their other youngsters, there's a really good chance that Real Madrid are better this season than they were last year: conceding fewer high-quality chances, creating more, controlling games more competently, and not relying on the heroics of Thibaut Courtois to bail them out, match after match. There's also a really good chance that, despite that, they won't win the Champions League.
As a manager once told me: I love the Champions League, and I hate the Champions League.
---
3. Bayern Munich
They've officially reached PSG territory, meaning there's almost nothing they can do in the league that will matter until they justify it against some of the better teams across Europe. They've drawn twice in the Bundesliga already, but those were both freak results where they created 5.1 xG and conceded 1.0 yet somehow only scored two and conceded two.
Wednesday's match with Inter will tell us more about Bayern than anything we've seen in Germany thus far.
---
2. Liverpool
But, but, but, they're in seventh! They got shut out by Everton! They drew Fulham! James Milner is playing significant minutes despite being alive during the American Revolution! They have no center backs! Mohamed Salah can't score! Their group is hard!
Despite all of that, Liverpool are still the third-favorites to win the whole thing according to the betting markets. Why is that? Three reasons: 1) Liverpool's track record over the past year is as good as anyone's, including City's. 2) Despite all of the early-season issues, their per-game expected-goal differential (per the site FBref) is better than it was when they won the league with 99 points in 2019-20. And 3) Thiago, Ibrahima Konate, Joel Matip, Darwin Nunez, Diogo Jota and Naby Keita have started four games — combined.
The league might be slipping out of reach already, but this team is going to be just fine.
---
They've been the pre-tournament favorite in each of the past four seasons. Of course, that doesn't mean that they're favored over the field. The most aggressive estimates only give them about a 30% chance of winning the whole thing, and that's about as high as you'll see for any team prior to the start of the group stages. Erling Haaland is on pace to score 63 goals in the Premier League this season.
They're the best team in the world — again. They've got to win it at some point, right?
Credit: Source link