Harry Maguire or Harvey Barnes? Thiago Silva or Thiago Alcantara? Alisson or Aymeric Laporte? Trent Alexander-Arnold or Son Heung-Min? How does the best goalkeeper in the league compare to the seventh-best midfielder to the fourth-best defender to the 10th-best attacker?
If you've ever asked yourself any of those questions — and even if you haven't — I tried to come up with a way that answers all of them. After releasing numbers 97-71 in our Premier League rankings earlier in the week, we're back with Part Two: six more tiers and 70 more players.
But before we get to that, it's time for a quick refresher.
A reminder of how this works
I tried to remove my personal opinions from the rankings as much as possible. That's impossible, of course, and the final rating is built around all of the assumptions I made about what should go into the model in the first place and what final results at least passed the eye test.
For a full explanation of how the rankings were made and the various inputs that went into the process, check Part One. However, a couple of key notes: The only players considered were ones who appeared in the top 120 of the Twenty First Group ratings or in the top 75 of Transfermarkt's market values. To adjust for positional value, all goalkeepers were awarded a zero for their Expected Goals (xG) added scores. And if a player was playing outside of the Big Five leagues, he was also awarded a zero for that particular season. That, in particular, penalizes new players like Liverpool's Darwin Nunez (at Benfica) and Manchester United's Lisandro Martinez (at Ajax), but I think it does a good job of accounting for the uncertainty over how performance from smaller leagues translates to the Premier League.
Due to all of that, these ratings are inherently conservative, valuing players who have done it consistently for a number of seasons. But more importantly, this also makes the rankings more interesting. If we were just ranking the 100 most talented players in the league, we'd just be listing off the rosters for Liverpool, Manchester City and Chelsea, filling in the gaps with the rest of the league. That's no fun. Instead, while these rankings do take into account team performance, they also value, say, a center-back who plays 3,000 minutes (hi, Conor Coady) for a mid-table team over a center-back who hasn't established himself as a full-time player for one of the best teams in the world (sorry, Ibrahima Konate.)
All right, enough of that. Part One, 97-71, with the largest "tier" of players, is here. Let's get down to business from 70-1.
---
The 'New Year, new you' tier
70. Cristian Romero: 24, DF, Tottenham
Most center-backs are tough to measure. So much of what they do comes down to positioning and pre-prevention: occupying an area so you don't even have to make a play on the ball. Not Romero, though. He came to the Premier League with a wild profile: a center-back who made a ton of tackles and interceptions, but also pressured the ball nonstop and constantly drove it up field at his feet. On a possession-dominant team like Atalanta, center-backs aren't supposed to have many opportunities to make defensive plays on the ball.
Surely that wouldn't fly in the Premier League. Instead, Romero made even more tackles and interceptions after joining Spurs — and he carried the ball up field more often, too.
69. Oleksandr Zinchenko: 25, DF/MF, Arsenal
Over the past year at Manchester City, Zinchenko ranked in the 99th percentile among all full-backs in assists, progressive passes and progressive carries. He's been brilliant in limited minutes and you can see why Mikel Arteta, who has never met an elite passer with limited skills who he didn't like, wanted him for Arsenal.
If you squint really hard — and put a lot of stock into one Ukraine match against Wales — you can see why they might want him to play in the midfield, too. But two big questions remain: Can he do it for more than 1,500 minutes a season? And how much of his statistical success came from simply playing for City?
68. Marcus Rashford: 24, FW, Manchester United
This is right around when you'd expect a player in his position to make the leap. Instead, the 24-year-old is coming off of a four-goal, two-assist season and seems further away from superstardom than ever before. In fact, Rashford barely would've made this list were it not for the transfer-value adjustment.
All that being said, I'd expect a bounce-back season from him this year. Player development rarely moves in a straight line.
67. Eric Dier: 28, DF, Tottenham
He's been a Tottenham player for eight full seasons, playing 2,800 Premier League minutes in half of them. Their league finishes in those years: third, second, third and fourth. Their league finishes in the years he didn't hit the 2,800-minute mark: fifth, fourth, sixth and seventh. I'll allow you to draw your own conclusions.
T-66. Kieran Tierney: 25, DF, Arsenal
The league finishes for Tierney's teams when he plays 2,800 minutes in a domestic season? Just kidding, it's never happened. … Arsenal's defensive improvement has directly coincided with Tierney's presence on the team; he's just the kind of solid, unspectacular player that Arsenal had seemingly avoided acquiring for the better part of a decade. The only problem, really, is that he can't stay on the field.
After playing 2,300 minutes in his first full season with the Gunners, he only appeared in 56% (1,917) of the minutes last season. If those numbers were higher, I'm not sure Zinchenko would be an Arsenal player right now.
T-66. Julian Alvarez: 22, FW, Manchester City
In his final two seasons with River Plate, Alvarez scored 21 goals and added eight assists across just 21 league starts. Yeah, but it's freaking Argentina, dude, you scream. Well, FiveThirtyEight's Soccer Power Index rates River as roughly equivalent to Southampton and better than a good chunk of teams in Serie A, LaLiga and the Bundesliga. There's still a ton of projection behind Alvarez's future performance, but he was easily the best player on a team rated out as roughly equivalent to an average Big Five team. Plus, when was the last time City botched an attacker signing? Wilfried Bony, anyone?
T-66. Harry Maguire: 29, DF, Manchester United
Sure, he's not Rio Ferdinand or Nemanja Vidic, but, well, who is? He's a perfectly solid Premier League center-back who plays a ton of minutes for good teams and occasionally looks like a buffoon because Manchester United are approaching 10 years without signing a real defensive midfielder.
63. Harvey Barnes: 24, FW, Leicester City
Here's a list of players who have a) played at least 6,000 minutes over the past three seasons, and b) scored and assisted on non-penalty goals at a rate of at least 0.60 per 90 minutes:
1) Kevin De Bruyne: 0.90
2) Mohamed Salah: 0.80
2) Son Heung-min: 0.80
4) Harry Kane: 0.74
5) Jamie Vardy: 0.67
6) Raheem Sterling: 0.66
7) Sadio Mane: 0.65
8) Danny Ings: 0.64
9) Harvey Barnes: 0.63
10) Michael Antonio: 0.60
Barnes is at least three years younger than anyone else on that list.
62. Ivan Perisic: 33, DF/MF, Tottenham
Take everything I said about Marcos Alonso in the first piece, lower the snark level by about 80%, increase the appreciation level by about 25% and you've got your description of Perisic. I have some questions about how well a 33-year-old will adapt to playing in the Premier League for the first time in his career, but he's arguably been the best wing-back in the world over the past year. Even with an age- and league-related decline, he should still be a productive player for Spurs.
61. Raphael Varane: 29, DF, Manchester United
He's a couple of spots ahead of Maguire not necessarily because of what we saw last season. United, after all, allowed 44 goals the year before he arrived and then 57 in his first season with the club. Varane didn't cause any problems at Old Trafford, but he certainly didn't solve any, either. Meanwhile, Real Madrid won LaLiga and the Champions League right after he left.
Varane is ahead of Maguire because he's got a long track record of being a starter for one of the best teams in the world. But as he found out last season, it's a lot harder to play center-back when you don't have N'Golo Kante or Casemiro sitting in front of you as a defensive midfielder.
60. Lisandro Martinez: 24, DF, Manchester United
The obsession over whether he's "too short" seems to be missing the point from both sides. Yes, most center-backs are much taller than 5-foot-10. And yes, Carles Puyol and Fabio Cannavaro were both as short as or shorter than Martinez, which didn't stop either of them from becoming all-time greats in the position. But two things are true here: Martinez won't automatically struggle because he's short, and it's a lot harder to be a great center-back when you're short.
Martinez is this high in the rankings because he was a stalwart for Ajax, who rate as one of the 10 or so best teams in the world over the past year. The bigger question, to me, seems to be over how he'll function at a team where he's simply going to have to do a lot more defending than he did at Ajax.
59. Martin Odegaard: 23, MF, Arsenal
In his first season as a full-time starter in the Big Five leagues, Odegaard registered 0.36 non-penalty goals plus assists per 90 minutes as Real Sociedad finished sixth in LaLiga. In his second season as a full-time starter in the Big Five leagues, Odegaard registered 0.36 non-penalty goals plus assists per 90 minutes as Arsenal finished fifth in the Premier League. The question for Odegaard and Arsenal going forward is twofold:
1) Can he become a more impactful player (more goals, assists, progressive passes) as he ages into his prime and better players surround him?
2) Can he find other ways to contribute that don't require him to constantly be on the ball?
58. Ben White: 24, DF, Arsenal
Although they finished 16th in the 2020-21 season, Brighton actually ended the year with the fifth-best xG differential in the Premier League, per the site FBref. The fifth-best xG differential in the Premier League last season? Arsenal. While he wasn't necessarily spectacular in his first year at the Emirates, we now have 6,000-plus minutes worth of evidence suggesting that you can play White in your backline and be one of the five best teams in the Premier League.
57. Cesar Azpilicueta: 32, DF, Chelsea
Yet another Spanish wing-back who's good enough for this list, but might not even be in the league come the end of the month. Azpilicueta is the one who started what The Athletic's John Muller has referred to as the "elbow back" trend — someone who can function as either a more-attacking outside center-back in a back three, or a more defensive full-back in a back four. In some ways, his value comes less from what he actually does on the field and more from the various options his versatility provides for the rest of the team.
With Chelsea now being linked with Brighton's Marc Cucurella, he would be a clear Azpilicueta replacement, just on the left side.
The 'How are Thiago and Granit Xhaka in the same tier?' Tier
56. Granit Xhaka: 29, Midfielder, Arsenal
Sure. Yes. Fine. OK. This did happen:
Granit Xhaka gets jeered off the field in front of the home crowd 😳 pic.twitter.com/nV3nUwvp5a

— NBC Sports Soccer (@NBCSportsSoccer) October 27, 2019
And he occasionally gets terrible red cards and frequently gets exposed for his lack of defensive range. But for the better part of six seasons — in which he's never made fewer than 27 starts — Xhaka has been the only Arsenal midfielder you could consistently rely on to help move the ball into the attacking third. As such, Arsenal's goal differential is more than half-a-goal better when he's on the field, compared to when he's off it.
55. Thiago Silva: 37, DF, Chelsea
Just a fantastic player. The only reasons he's not higher are that since joining Chelsea, he's played about two-thirds of the minutes — a comparatively low number for a center-back — and he'll be 37 at the start of the season. Players typically don't get better and usually don't start to play more minutes when they're approaching 40.
54. Ben Chilwell: 25, DF, Chelsea
It's not a totally fair comparison, but Chelsea were a Champions League-winning side who seemed like they could potentially be a part of a trio with Manchester City and Liverpool when Chilwell was in the starting XI. Without him, they were a distant third — and much closer to the chasing pack than the top two. Unlike Marcos Alonso, he provided actual defensive solidity and could contribute to the attack without needing to wander across the penalty area. If he quickly recovers from his torn ACL and finds his same level from the first half of 2021, it would be … [Arsene Wenger voice] … just like a new signing.
53. Jordan Henderson: 32, MF, Liverpool
A content warning: a lot of Liverpool players will likely appear lower on this list than they should because of how poorly the team performed during the 2020-21 injury crisis, compared to the two years before it and with last season. Strangely enough, Henderson played his most Premier League minutes since Jurgen Klopp was hired … last season. Remember: Harvey Elliott was starting matches in Henderson's spot at the beginning of last season before he suffered a gruesome ankle injury. Henderson is still one of the better passers at his position and also provides a ton of value with his movement off the ball, but it wouldn't shock me if the club captain has a smaller role than he had last year.
52. Jarrod Bowen: 25, FW, West Ham
These ratings, clearly, are skewed toward attackers. We're working off the premise suggested by the values the transfer market gives to players: the guys who score and create goals are worth the most. And to take it a step deeper: these players have to execute with the highest degree of precision because they're functioning in the areas of the field with the least amount of space. That's why the best attacker on the seventh-place team in the Premier League sits one spot ahead of the captain of one of the best Premier League teams of all time. Well, that, and he's seven years younger.
51. Youri Tielemans: 25, MF, Leicester City
He's just become one of the most reliable midfielders in the league. While you're not getting a massive two-way impact, you can all but guarantee somewhere in the realm of 10 goals+assists per season, about 2,800 minutes, plus some above-average passing and off-ball movement. He wouldn't be a game-changer for any of the Big Six, but if you threw him into any of their starting lineups, I don't think you'd see any real drop-off, either.
50. Kyle Walker: 32, DF, Manchester City
What happens next with Walker will be interesting. His recovery speed and his ability in possession allowed City to suck the life out of games without having to press too aggressively. Instead, they moved the ball up the field methodically and then suffocated teams with their possession in the attacking third. This required near-constant offensive contributions from just about every member of the starting XI, and that was possible because whenever City lost the ball, Walker was able to chase down any balls over the top. However, the signing of Erling Haaland suggests a move toward a new style of play, and if that does happen, will Walker still be as important?
49. John Stones: 28, DF, Manchester City
Put him into the starting lineup and City are great. Take him out of the starting lineup and City are great.
48. Christian Pulisic: 23, FW, Chelsea
He's yet to play more than 51% of the Premier League minutes in a given season for Chelsea. But being a rotation attacker on a top-4 and Champions League-winning team still earns you a spot in the top 50. To move up, he'll need to stay healthy and increase his attacking production when he does get out there. In Pulisic's first season with Chelsea, he averaged 0.61 expected goals+assists per 90 minutes, but that's slumped down to 0.44 (slightly above average for his position) over the past two seasons. Like we said with Rashford, though: development is almost never linear.
T-47. Gabriel: 24, DF, Arsenal
To completely oversimplify this one: He played 58% of the Premier League minutes two seasons ago, and Arsenal finished eighth. He played 90% of the Premier League minutes last year, and Arsenal finished fifth. I don't know if he's a part of the next Arsenal team that challenges for a title, but he's good enough to help establish them at a level or two below it.
T-47. Timo Werner: 26, FW, Chelsea
Remember when this happened?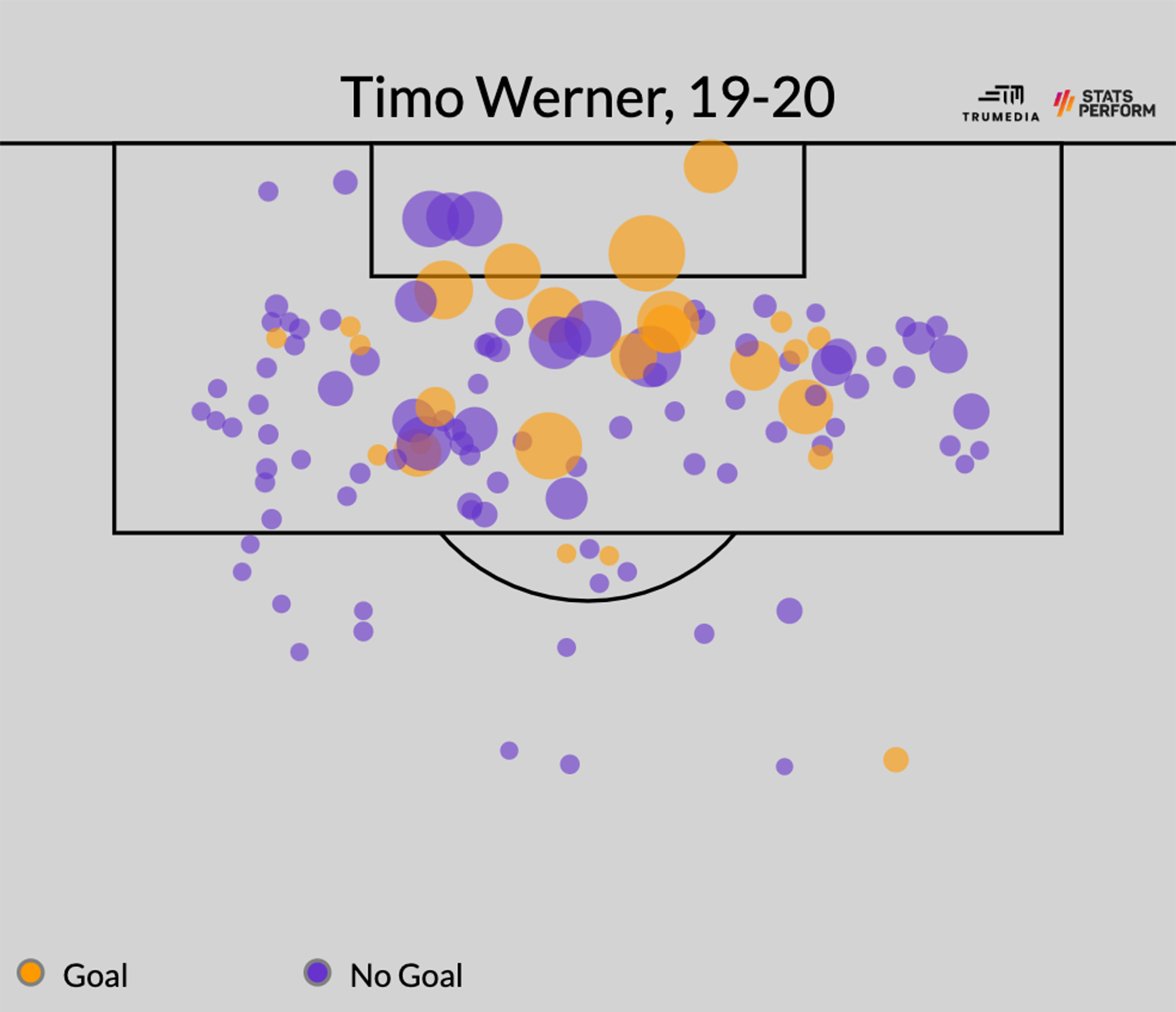 Just two seasons ago, Werner scored 28 goals in a single season from shots worth 21.33 xG, Per Stats Perform. That's why this model can't quite quit him.
45. Thiago Alcantara: 31, MF, Liverpool
When he's healthy, he's probably the best midfielder in the world: an absolutely elite passer, ball carrier and ball winner. He's one of the few players at this position who I'm confident drives winning to a significant degree. He brings so much possession firepower to the table without taking anything off of it on the defensive end — and frankly, adding something to it on the defensive end. There's also, to my mind, no one better to watch; few players have ever combined flair and efficiency in the way that he does. Next time your coach yells at you for making what he calls a pointless no-look pass, just show him some tape of Thiago. The issue, of course, is that he's never healthy. He's 31 and he's played 2,000 domestic minutes in a season just twice in his career.
The 'We are the same' tier
T-44. Kalidou Koulibaly: 31, DF, Chelsea
He's not helping Chelsea get any younger alongside Thiago Silva, but he's been a mainstay of one of the best teams in Italy for nearly a decade. Over his eight seasons with Napoli, Koulibaly played 76% of league minutes as the club produced an average finishing position of 3.6 and frequently allowed less than a goal per game. Pretty widely considered one of the world's best center-backs of the past decade, he'd be a bit higher were it not for an availability decline over the past three years. After playing at least 90% of the minutes in both of Napoli's back-to-back second-place seasons, he hasn't broken 70 since.
T-44. Joel Matip: 30, DF, Liverpool
To some, soccer is an open game, one with a set of rules that were then co-opted by governing bodies, who created leagues and schedules around those rules and now play their seasons over and over again, ad infinitum. To others, it was a quest. The first match ever, somewhere in Britain in the 1800s, began a search for an aesthetic ideal, for a set of movements, arranged around the bounce of ball, that were so perfect they would be, by definition, impossible to imagine until they actually happened.
It is ALL Liverpool at Anfield. This Joel Matip strike and two penalties from Mo Salah have the Reds up 3-0!

📺 @peacocktv pic.twitter.com/Z27I8tdAOp

— NBC Sports Soccer (@NBCSportsSoccer) February 23, 2022
To these people, soccer was completed on Feb. 23, 2022.
42. Darwin Nunez: 23, FW, Liverpool
As mentioned earlier, these rankings are punishing Nunez for his lack of Big Five experience. And based on his performance against Manchester City in the Community Shield final, he is pretty clearly the best player in the world.
If you extrapolate his performance in 31 minutes against City out to a full game, he would average 11.6 shots, 1.9 xG, and 2.6 actual goals per 90 minutes. Last season, no one in Europe's Big Five averaged more than 4.8 shots, 0.9 xG, or 1.0 actual goals per 90 minutes. This, clearly, is how it works.
41. Roberto Firmino: 30, FW, Liverpool
Firmino quietly had an excellent season in 2021-22. The radar on the right, from the consultancy Twelve, uses tracking data to represent a number of the different kinds of off-ball movements a player makes throughout a game. Among forwards, Firmino has no peer when it comes to the havoc he can create without the ball at his feet: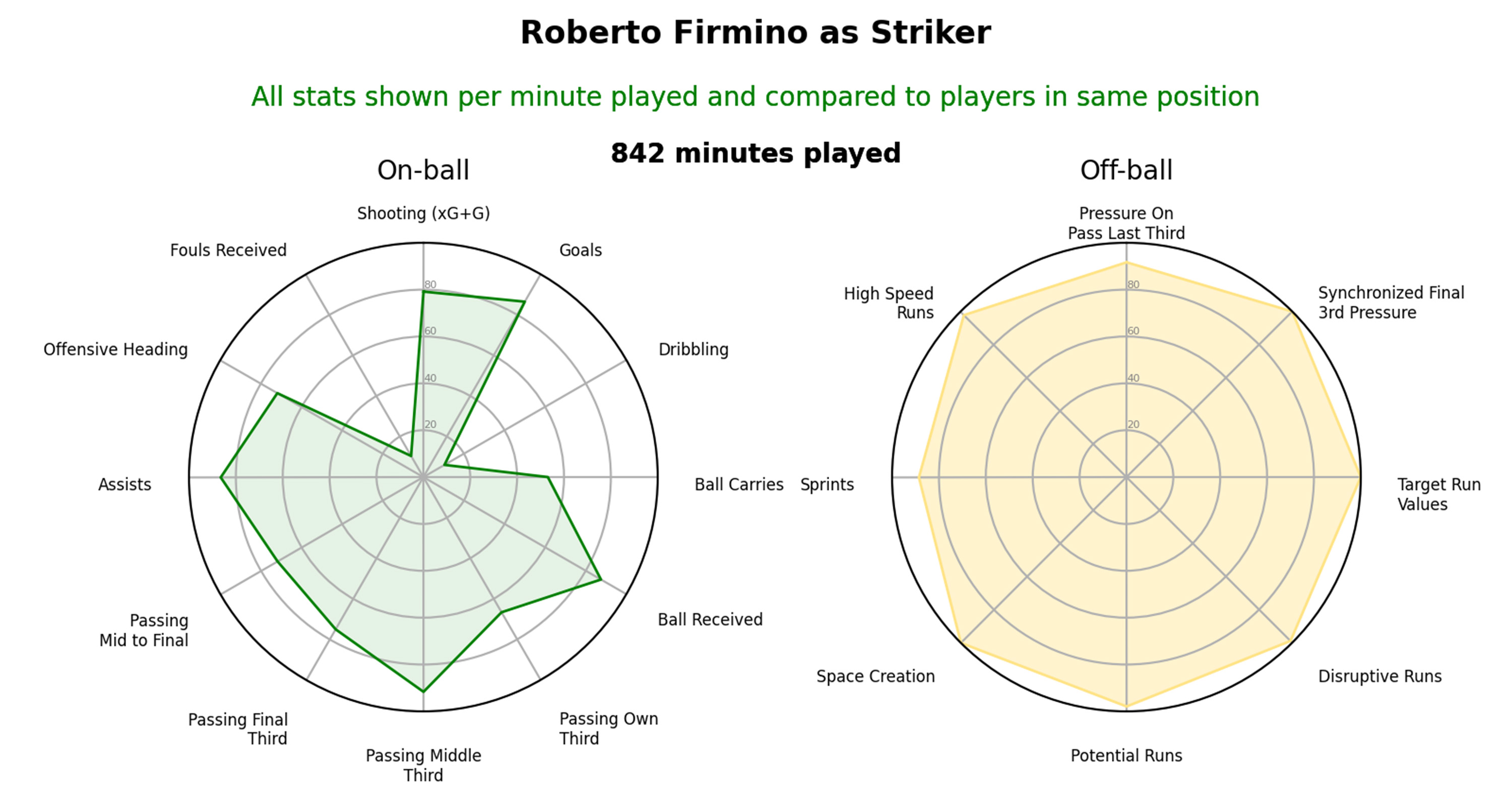 But even with the ball, Firmino averaged 0.82 goals+assists per 90 minutes in the Premier League last season. The reason he's not way higher: he only played 990 minutes.
40. Jadon Sancho: 22, FW, Manchester United
Sancho's elite performance in the Bundesliga and his high market value is what's keeping him in the top 40 after a generally disastrous year in which he didn't play a ton — 1,900 minutes — and didn't produce when he did: 0.28 goals+assists per 90 minutes, or the same rate as Rodri, Joshua King and Lucas Digne. However, so much of what Sancho is great at — carrying or passing the ball into dangerous areas — does depend on coordinated movements from his teammates in order for those things to ultimately lead to goals. Among the many things that Manchester United had last season, "coordinated movement" was not one of them.
39. Edouard Mendy: 30, GK, Chelsea
It's funny. Despite a number of memorable, highlight-reel performances, Mendy's shot-stopping basically grades out, on the whole, as average over his two seasons with Chelsea. This is why aggregates are valuable! But after the failed Kepa experiment, a keeper who generally saves all of the shots he's supposed to save — and occasionally goes on a blinder — has been a massive upgrade.
T-38: Jorginho: 30, MF, Chelsea
T-38: Tomas Soucek: 27, MF, West Ham
I'm grouping them together because I love how they earned the same rating through polar-opposite approaches. There are basically two ways to provide value as a midfielder, either constantly execute on a high number of low-value actions far away from goal (most passes you in midfield), or touch the ball way less often but find a way to influence the game in the penalty area.
Jorginho does the former: 95th percentile among midfielders in total passes, 90th percentile for progressive passes, but he didn't score a single non-penalty goal last year. Soucek, meanwhile, sits only in the 25th percentile for passes completed, but he's in the 92nd percentile for touches in the box and has scored 15 non-penalty goals over the past two seasons.
36. N'Golo Kante: 31, MF, Chelsea
In some ways, he's better than ever before. He still wins the ball all the time and creates a ton of pressure, but he's also gradually added offensive elements to his game to the point where he now ranks in the 90th percentile or above among all midfielders in both progressive carries and progressive passes. But it's in, perhaps, the most important area that he's suffered his biggest decline. After racking up a minimum of 2,900 domestic minutes for six straight seasons, he's averaged just 1,884 minutes over the past three campaigns.
35. Mateo Kovacic: 28, MF, Chelsea
Pretty much everything I said about Thiago applies here — all the way down to the fact that Kovacic, too, has only played 2,000 domestic minutes twice in his career. He's one of the best midfielders in the world when he's on the field — 99th percentile for progressive passes, 98th for progressive carries — but he's just not on the field that much. He's played 53% of the minutes since joining Chelsea in 2018.
---
The 'You're not gonna love this' tier
34. Ilkay Gundogan: 31, MF, Manchester City
Two strange things have happened as Gundogan got older: he started playing more minutes and he started scoring a ton of goals. In the campaigns before 2018-19, Gundogan struggled with injuries and averaged about 1,200 minutes per season. In the four years since then, he's averaged 2,000 minutes per season. And over the past two seasons, when City took the title back from Liverpool and then held them off by a point the following year, he scored 20 non-penalty goals. In the eight seasons before that, he scored 20 goals … combined. Without his newfound goal-scoring prowess from midfield — and specifically, without his two goals on Matchday 38 against Aston Villa — City would have gone trophyless last season.
33. James Maddison: 26, MF, Leicester City
Last week, I wrote a piece about the idea of on-ball and off-ball players. Maddison is very much the former: influencing the game by getting on the ball in advanced areas and either scoring goals or creating for his teammates. In his four years at Leicester, he's scored 32 non-penalty goals and added 23 assists. I don't think he'd be able to occupy the primary creator role for one of the best teams in the league, and I'm not sure he'd contribute enough in other phases of the game to do anything else. But he's been a real worker for Leicester — 75% of the minutes since joining the team — and they did come within a bounce of finishing top four, twice, with Maddison carrying a heavy attacking load.
32. Luis Diaz: 25, FW, Liverpool
Another Liverpool player getting dinged by his lack of Big Five experience. But in limited minutes last year he did just about everything — on and off the ball: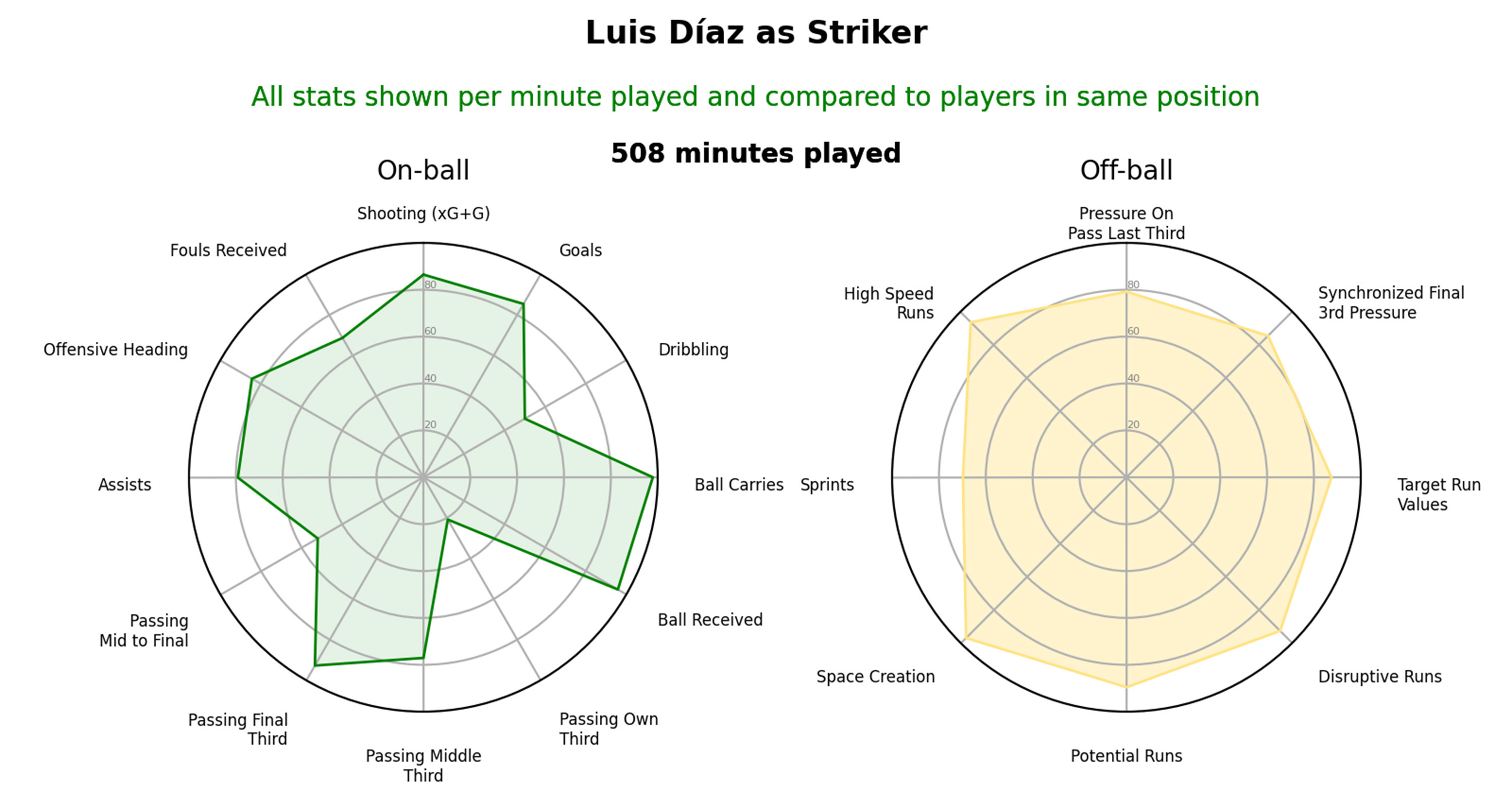 His underlying production — 0.59 non-penalty xG+xA per 90 minutes — would've ranked 13th in the league last season, right between Riyad Mahrez and Kai Havertz. That's a bit lower than what all of the other Liverpool attackers produced, but it also came after he was dropped into the team midseason, with no offseason and no time to acclimate. It seems like he's got the left-wing spot locked down for now, and with a full preseason under Klopp — and then a month off midseason since Colombia didn't qualify for the World Cup — he should be primed for a big season.
31. Diego Carlos: 29, DF, Aston Villa
This seems really high. Without seeing him play a minute in the Premier League, I would've probably dropped him toward the bottom of this list were I building it only using my gut. My guess is that Liverpool, City, Chelsea, Arsenal and even Manchester United likely wouldn't improve if you swapped in Carlos for one of the center-backs he's ranked ahead of. More likely, I think, is that a bunch of those teams would get worse. But here's the case for him: he's played 87% of the minutes for Sevilla over the past three seasons, during which they've allowed, on average, 32 goals per year. And over the past three seasons in the Premier League, only three teams have allowed 32 goals or fewer in a given season: City and Liverpool last year, and then City the year before that.
30. Cristiano Ronaldo: 37, FW, Manchester United
I went over this in great detail earlier this year and was then told by multiple readers that I should quit my job. The tl;dr version is this: he scores a lot of goals, but there's a growing body of evidence that this version of Ronaldo makes his teams worse. Some more evidence to add to that pile: He wants to leave Manchester United, and yet no one really seems all that interested in signing the guy. He's the 30th-rated player here, but when you bring him to your club, you're forced to act like he's ranked No. 1.
29. Kai Havertz: 23, FW, Chelsea
I love watching Havertz. In a lot of ways, he's the next generation's Firmino, the center-forward-in-name-only who does all of the little things — defensive work, off-ball movement — that make his teammates better.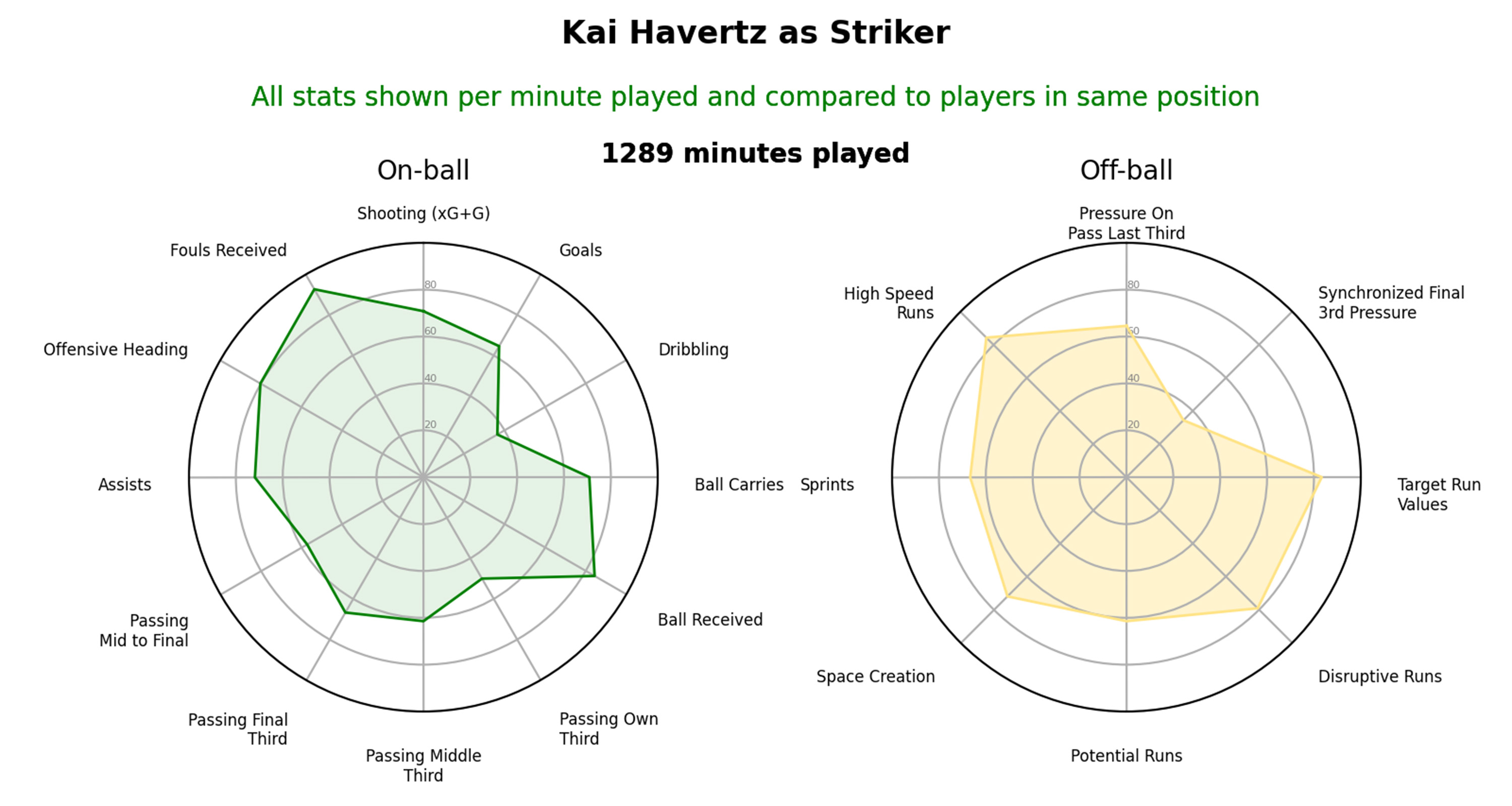 But at some point, you still have to produce. Havertz has just 12 goals and six assists across his first two Premier League seasons. Strangely — and this has happened with Werner as well — Havertz's creativity has significantly dropped off since he left the Bundesliga. According to FBref, with Chelsea he's created just 3.6 xA over two seasons — a number he surpassed in each of his final three seasons with Bayer Leverkusen.
28. Pierre-Emile Hojbjerg: 26, MF, Tottenham
It might be surprising to some to see his name here, but Hojbjerg is a pretty simple player to appreciate. Among Premier League midfielders last season, he was:
– Fourth in combined tackles and interceptions
– Third in total minutes played
– First in progressive passes completed.
He's always on the field, he wins the ball and he passes it forward. What more do you want from a midfielder?
27. Declan Rice: 23, MF, West Ham
It's basically the same story for Rice:
– Fourth among midfielders in minutes played
– Second in tackles and interceptions
– Second in progressive carries
– 11th in progressive passes.
He's always on the field, he wins the ball, he carries it forward, and he sometimes passes it forward, too. Also, he's only 23. What more do you want from a midfielder?
26. Riyad Mahrez: 31, FW, Manchester City
He's managed the transition from being the guy at a smaller club to one of the guys at a bigger club about as well as you can. He played at least 2,800 minutes in each of his final three seasons at Leicester and hasn't broken the 2,000-minute mark in any of his years at City. He's never really established himself as a "no-doubt first-choice" player at City for any consistent amount of time, but I do think his style of play — provide an outlet for the midfielders, then drive into the box and force defenders into a decision — has given City's relatively patient attacking approach a useful jolt of directness. Every top club is looking for players who are able to settle into a sometimes-starter role and still produce like a star despite seeing a smaller share of attacking third touches.
25. Fabinho: 28, MF, Liverpool
Liverpool's No-Stats All-Star. He doesn't register the same kind of ball winning, passing, or carrying numbers as some of the other midfielders he's ahead of here, but part of that comes from the fact that Liverpool don't need him to. When the opposition break the press, he's typically tasked with slowing the attack down rather than trying to win the ball back, and in possession, well, you've already got arguably the two best ball-progressors in the league — Thiago and Trent Alexander-Arnold — to do all of that work.
Instead, Fabinho is just always there, as an option for players to pass out of pressure or getting in the way of opposition attackers trying to build up a head of steam. In games that he has appeared in over the past four years, Liverpool win matches at an 88-point full-season rate. Manchester City won the league two seasons ago with 86.
T-24. Alisson: 29, GK, Liverpool
We can argue over whether he's the best keeper in the world or whatever, but it's pretty clear that he's the best possible keeper for Liverpool. The team feels comfortable with playing such a high line and allowing their opponents to play so many through balls because they've got Alisson back there:
Final #PremierLeague 1v1 Table#Alisson saved #LFC over 8 goals more than expected during 1v1s!👑

Will he be able to achieve similar numbers next year?🤔

Of the other big 6 GKs only #Ramsdale performed strongly vs 1v1s which will be a concern for #MCFC, #THFC, #CFC & #MUFC 😯 pic.twitter.com/0zxYYwyP3O

— John Harrison (@Jhdharrison1) May 30, 2022
He's one of the few keepers who both makes his team's attack and defense better: the former by allowing the outfield players to push further forward and the latter because he saves a ton of shots. Swap out Alisson for any other keeper in the world, and Liverpool would immediately become a significantly worse team.
T-24. Reece James: 22, DF, Chelsea
Over the past 365 days, James ranks in the 90th percentile or above in the following per-90 statistics: non-penalty goals, non-penalty xG, shots, assists, xA, non-penalty xG+XA, shot-creating actions, passes attempted, pass-completion percentage, progressive passes, progressive carries, dribbles completed, touches in the penalty area and progressive passes received. He's pretty good, you guys.
22. Ederson: 28, GK, Manchester City
In his first five seasons in Manchester, per FBref, Ederson has saved a total of five goals above average, or about a goal per season. That's a bit below the rates you'll see from the other top keepers in the world, but playing the position for City is different than everywhere else. You're almost guaranteed to face fewer shots than any other team, and you're expected to constantly make plays with your feet. Plus, while there have been very few week-in-week-out mainstays for Guardiola during his tenure in England, Ederson has always been there. He's hoovered up 95% of the minutes, as City have won the league in four of the past five seasons.
21. Bukayo Saka: 20, FW, Arsenal
If you were picking a team to win the Premier League next season, Saka would be well below a number of the other names already mentioned. But compared to any player on this list, he's probably the most likely to suddenly go supernova, too. He's been incredible ober the past two years, playing 75% and then 87% of the league minutes. His rate of production is still a good deal below the best players in the league — 16 goals and 10 assists across 5,500-plus minutes — but he's already a fantastic outlet and has figured out how to do one of the hardest things in the sport: get on the ball inside the penalty areas. Oh, and there's this: He's 20 years old. The recent struggles of Marcus Rashford and Christian Pulisic should give some pause, but it really seems like the most likely outcome of Saka's career is that he eventually becomes one of the top attackers in the league.
20. Jack Grealish: 26, FW, Manchester City
While I don't agree with the sentiment, this tweet does raise an interesting question:
Grealish and Diaz nowhere near the level of the best left-wingers in the last 10 years – Ronaldo, Neymar, Mbappe, Hazard, Alexis, Reus, Son, Sterling, Mane.
Would be expecting that quality at LFC / MCFC in a position that a lot of modern attackers want to play in.

— reverse_ball (@reverse_ball) July 30, 2022
Over the past decade, the inverted, goal scoring wing-forward has become the most important position in the sport. And given how there are more right-footers than lefties in the world, you would think that the left-wing spot at arguably the two best clubs in the world would be among the most contested specific roles in the sport. For various reasons, neither Diaz nor Grealish have ever scored double-digit goals in a Premier League season. They both have the talent, but can they live up to the near-impossible expectations?
19. Diogo Jota: 25, FW, Liverpool
I'm still not convinced that Jota isn't a first-choice player come the end of the season. Klopp feels pretty comfortable making changes to the front three throughout the season, and the club did just sign him to a new contract. But more than that, he's a pressing demon (97th percentile for pressures among forwards), he doesn't need much of the ball to make an impact, and he's quietly been the most consistent goal scorer in the league over the past two seasons. Among players who've played at least 1,000 minutes over that stretch, Jota leads the way with 0.62 non-penalty goals per 90 minutes.
18. Virgil van Dijk: 31, DF, Liverpool
Yes, this is easily the biggest whiff in the model. I can't think of many people who don't have anonymous Twitter accounts or aren't literally Richarlison who wouldn't count VVD among the 15 best players in the world, let alone the Premier League. He's getting punished by missing so much of last season — and also being part of a quietly terrible defense for the few games he did play in. He's also being punished by the fact that he doesn't do the kind of defending that shows up in on-ball stats and he doesn't do as much of the on-ball attacking stuff as, say, teammate Joel Matip. Liverpool were also top of the table come Christmas two seasons ago — before all of their other defenders got injured, too. But c'mon. He's the best center-back in the world.
The 'City rejects' tier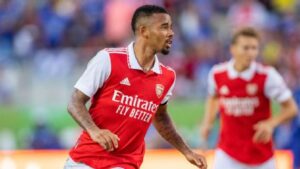 17. Aymeric Laporte: 28, DF, Manchester City
There probably isn't a better center-back on the ball than Laporte: 99th percentile for both progressive carries and passes. Plus, Manchester City's two sub-90-point seasons over the past five years came during seasons when he was either injured or had fallen out of favor. He's sort of the ideal second center-back, in my opinion — the guy who can take your attack up another level while his partner (or his right back, if Kyle Walker's out there) does all the defensive dirty work.
16. Gabriel Jesus: 25, FW, Manchester City
Jesus at Arsenal will be a fascinating test-case of 1) how finishing ability develops, and 2) how much playing in an elite team boosts your production. Regarding the former, per Stats Perform he's scored 55 non-penalty goals on 65.8 expected goals. Attackers tend to slightly outperform their xG, let alone match it, let alone score 10 goals fewer than expected: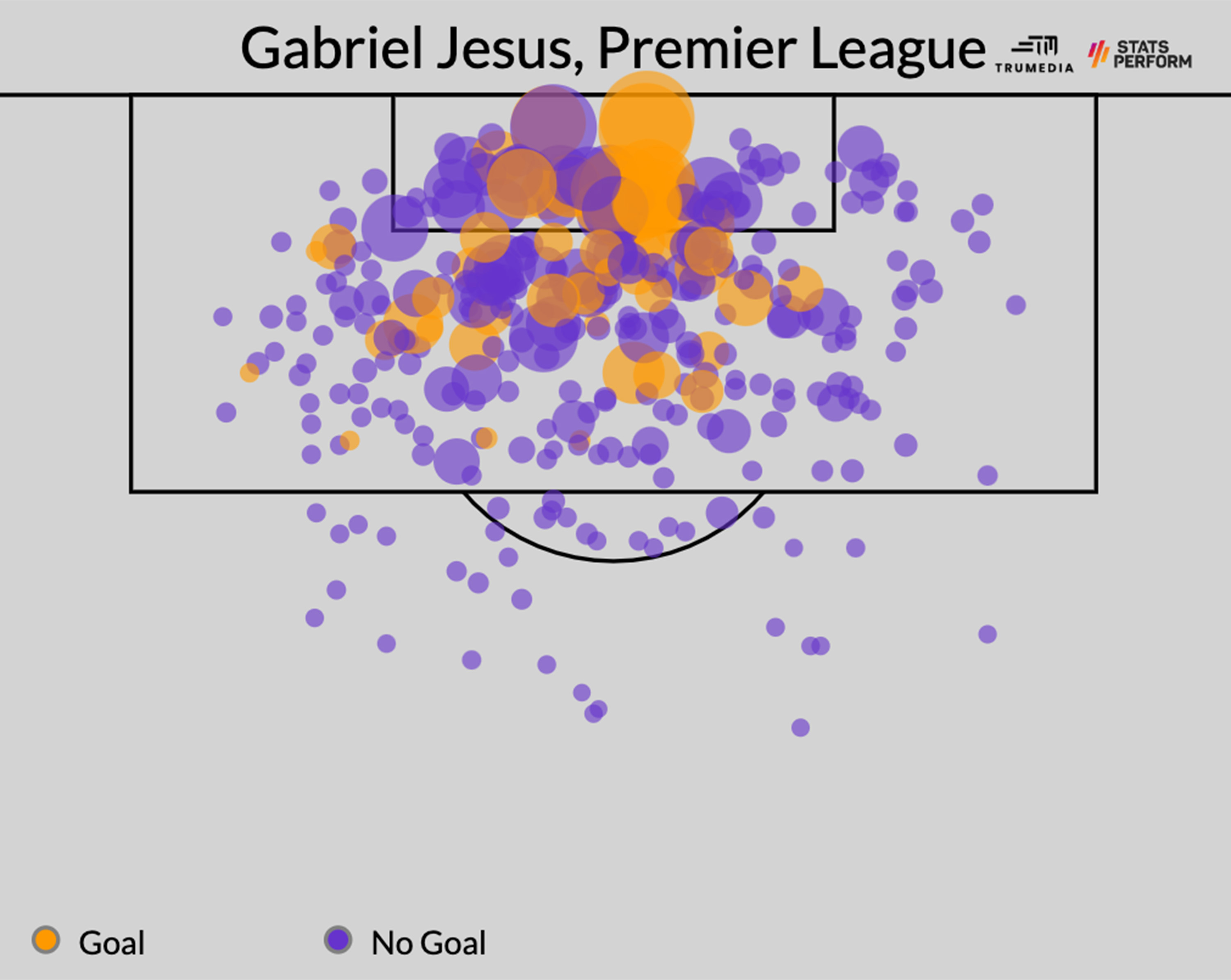 If Jesus does just happen to be the rare "bad" finisher, he'll still be fine; he averaged more than a goal every other game despite his faulty conversion rate. He's that good at finding space in the penalty area. However, there is also a chance that Arsenal just acquired a player who's been in a prolonged slump and is about to suddenly start converting a much higher percentage of his chances into goals. He's also looked so good in preseason that the "preseason means nothing, you idiot" part of my brain is having a hard time not being impressed. Big things could be in store for him this year.
15. Bruno Fernandes: 27, MF, Manchester United
He's a tricky one to rank, and frankly, he's the kind of player who is an existential threat to the validity of this specific exercise. By just giving the keys to Bruno and letting him try to break down the opposition defense with a barrage of high-risk, high-reward passes, United were good enough to finish top four in two consecutive seasons. But if you put him on Manchester City or Liverpool or even Chelsea, would he make those teams better? There's no space for him to do his volume creation thing because those teams have better players who can do that and/or they don't want any of their players to do that. At the same time, you could also convince me that United would not have finished top four if you replaced Bruno with, say, Kai Havertz, Luis Diaz, or Riyad Mahrez.
14. Mason Mount: 23, MF, Chelsea
Oh, you know, just a guy putting up an 11-goal-10-assist season at age 22 without anyone even batting an eye. He does enough defensive work to fit in a midfield three, and he scores enough goals to play as part of an attacking trio. He's just so, so good; he'd make both Liverpool and City immediately better if he joined either club tomorrow. I don't exactly know what he's going to look like in his peak years: will he become more of a goal scorer? A more productive passer? Or … [lowers voice to a whisper] … both?
13. Andy Robertson: 28, DF, Liverpool
He's basically the new Jordi Alba — his skill allows him to stress the defense with a never ending barrage of runs around the corner of the backline, and then his technical ability allows him to turn all of that off-ball excellence into a season-by-season guarantee of double-digit assists. He's also become way more proficient against bunkered-in defenses. The one thing to worry about, this year, is his availability decline. After playing at least 3,100 minutes over the past three seasons, his minutes dropped down to 2,537 last year. He's put a ton of minutes on his legs over the past four seasons, and these are physically demanding minutes, too. As much as anyone, he should benefit from the World Cup break.
12. Ruben Dias: 25, DF, Manchester City
Dias actually hasn't played quite as many minutes as you might think. He's featured in 75% of the league matches for City over the past two years — a big number for most other positions, but relatively smaller compared to some of the league's other top center backs. However, City's defense seemed like it was on the verge of breaking in 2019-20, then it did actually break in the early part of 2020-21, before things stabilized and City re-established themselves, pretty clearly, as the best defensive team in the world. The constant amidst an ever-changing backline has been Dias. City concede at a 38-game rate of 25 goals when Dias plays. Since he's become a full-time starter, we haven't seen City be anything other than one of the better defensive teams of all time.
11. Raheem Sterling: 27, FW, Chelsea
He's already one of the Premier League's all-time greats — a true off-ball superstar who lives in the penalty area, can fit within any roster or tactical strategy, and guarantees you 15 or more goals and assists per season. It seems like he's been around forever, and yet, somehow, he's four years younger than Mahrez, three years younger than Mohamed Salah, two years younger than Paul Pogba and one year younger than Mateo Kovacic.
---
The 'This doesn't even need a pithy nickname' tier
10. Phil Foden: 22, FW, Manchester City
Among returning Manchester City players, Foden led the team in:
– Non-penalty xG+xA per 90 minutes
– Pressures per 90 minutes
For a modern attacker, that's the whole ball game, folks.
9. Joao Cancelo: 28, DF, Manchester City
Forget about the fact that he's reinventing what it means to play full-back. Don't worry about him ranking in the 99th percentile for full-backs in both progressive carries and progressive carries. Do not concern yourself with him attempting more shots than any of his teammates last season. And please, just completely ignore how the bottom half of one of these radars — the part concerned with "passing" — looks like it's about to explode: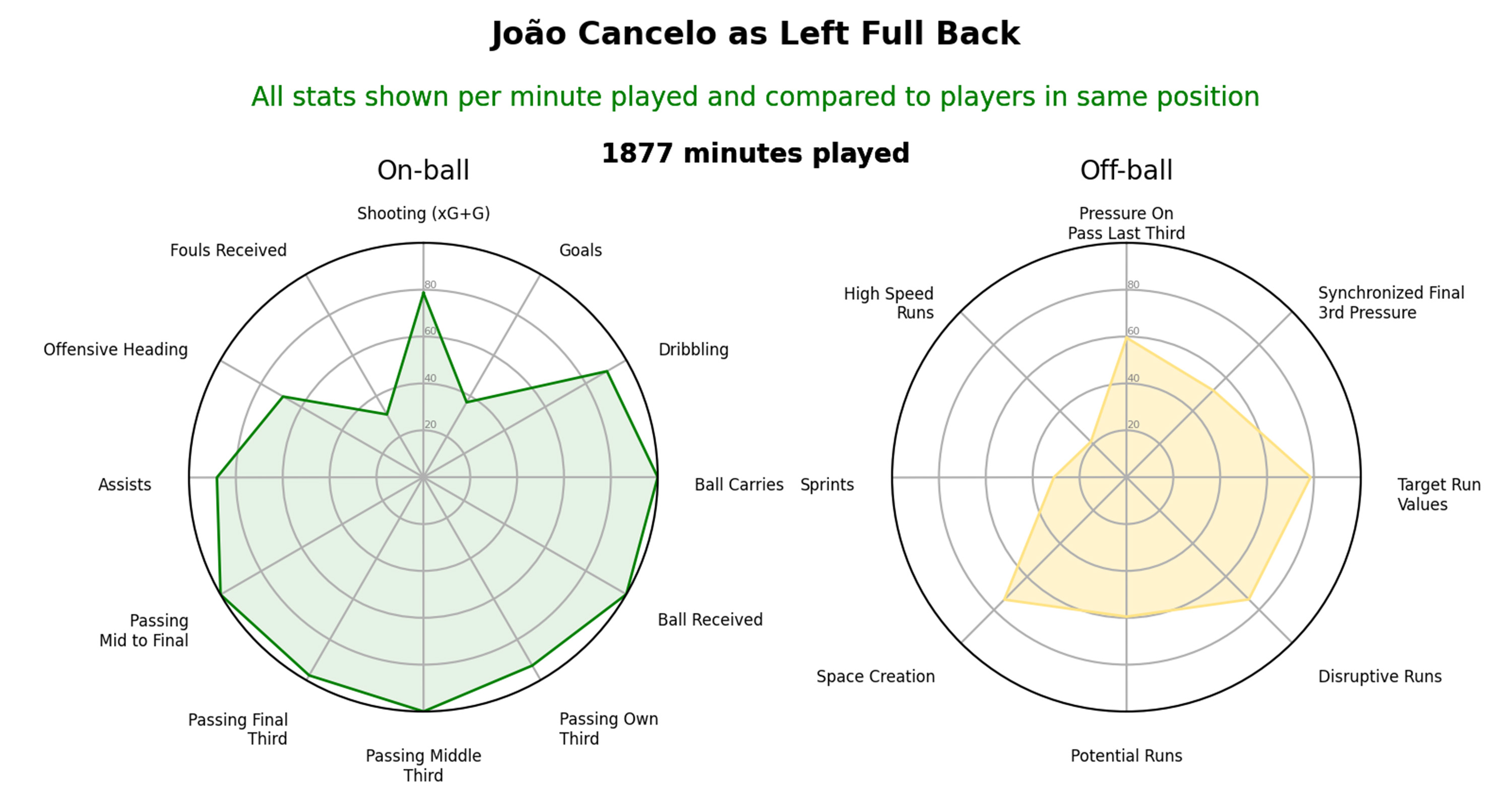 Instead, just focus on this. As Manchester City won the third-most points in Premier League history (93) and outscored their opponents by the second-biggest margin the league has ever seen (plus-73), there was only one outfield player who was on the field more than 85% of the time. Last season, Cancelo played 3,227 minutes, meaning he was present for all but 5.6% of possible game time. If you wanted to put him first on this list, I wouldn't argue.
8. Bernardo Silva: 27, MF, Manchester City
While a full-back led City in shots last year, a midfielder — one who frequently played deeper than he ever has before — led all returning players in touches inside the penalty area. Beyond their expensive, incredible collection of talent, one of the main reasons that City were able to pull off results at such an absurdly consistent level is because of their constantly shifting geometry. While Liverpool tended to win by smashing the "thing we're best at button" as hard as they could, City were so difficult to stop because they had so many players who would do things that players in those positions aren't supposed to do.
With his energy, off-ball range, and his ability to still make plays whenever he did get on the ball, Silva would often look like a defensive midfielder, a No. 10, a winger and a center-forward — all in a single 90-minute match.
7. Rodri: 26, MF, Manchester City
For all of the team's positional fluidity, one of the defining motions for the current version of City is Rodri, chipping a pass: across the field, out of pressure, over a defender's head, or diagonally to a streaking attacker on the edge of the penalty area. According to StatsPerform, City's lone defensive midfielder completed more chipped passes in the attacking third than any player other than the next guy on this list.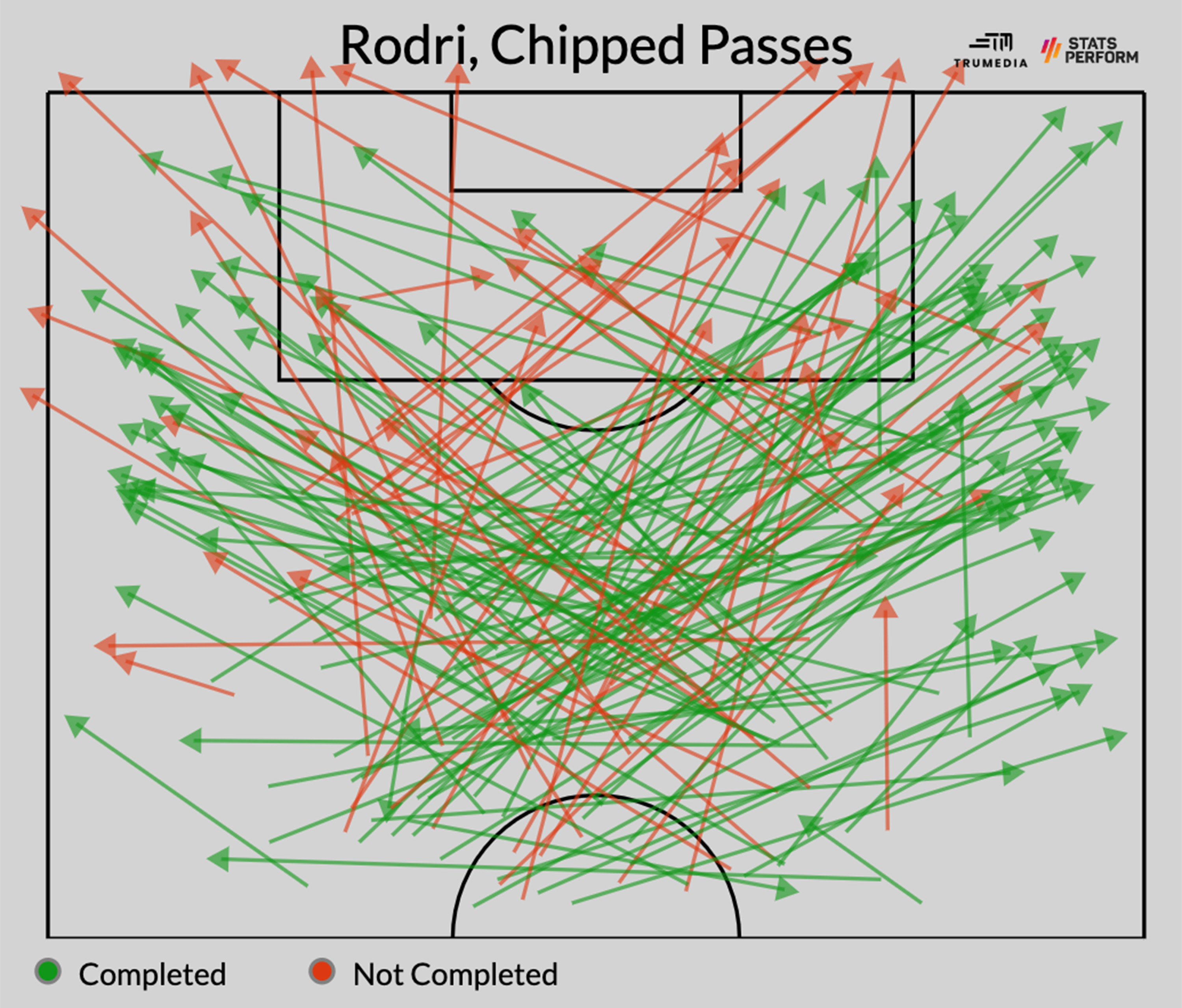 I think the Rodri chip symbolizes his role in this team, too — it looks effortless, but requires all kinds of skill and creativity to pull off. Much like Fabinho, he's always there to relieve pressure or to prevent it from ever coming about, but he's also tasked with stringing together the trickier passes that allow City to maintain such absurd amounts possession. Oh, and he's often the one who decides it's time to finally push a given possession into a higher gear. Since leaving Sergio Busquets at Barcelona, Guardiola hasn't had another midfielder who was more like himself.
6. Trent Alexander-Arnold: 23, DF, Liverpool
Much like with Cancelo, if you wanted to put him first on the list, I wouldn't have any objections. And much like Cancelo, he can only really vaguely be compared to his fellow full-backs. Among all players in Europe's Big Five leagues last season, TAA was:
– First in progressive passes
– First in total progressive passing distance
– Third in passes into the penalty area
– Fourth in expected assists
In addition to that, he leads all Premier League players in both assists and xA over the past four seasons. He's the best and most consistent passer of the ball in the world — and we have proof that he drives winning at a truly elite level. After all, Liverpool have become one of the two or three best teams on the planet by building their approach around his TAA's ability to kick a ball better than anyone else.
5. Son Heung-Min: 30, FW, Tottenham
Over the past six Premier League seasons, Son has the fourth-most assists (45) and the fourth-most non-penalty goals (88) and the only two players with more combined goals and assists are two of the four players ahead of him on this list. The raw numbers tell a pretty good story, but also an incomplete one.
Outside of the No. 1 player here, Son is the most reliable attacker in the league. Throw him out there, and he's going to stress the defense with his explosive off-ball movement and elite finishing ability with both feet. Over the past six seasons, he hasn't had a single bad year: at least 2,000 minutes in every one and a combined goals+assists rate of at least 0.70 each time. Last year, though, was his best: his second-ever 3,000-minute season and a career-high production rate of 0.90 goals+assists per 90 minutes.
4. Harry Kane: 29, FW, Tottenham
First, Kane became a superstar because he took a ton of shots — and then the shots disappeared.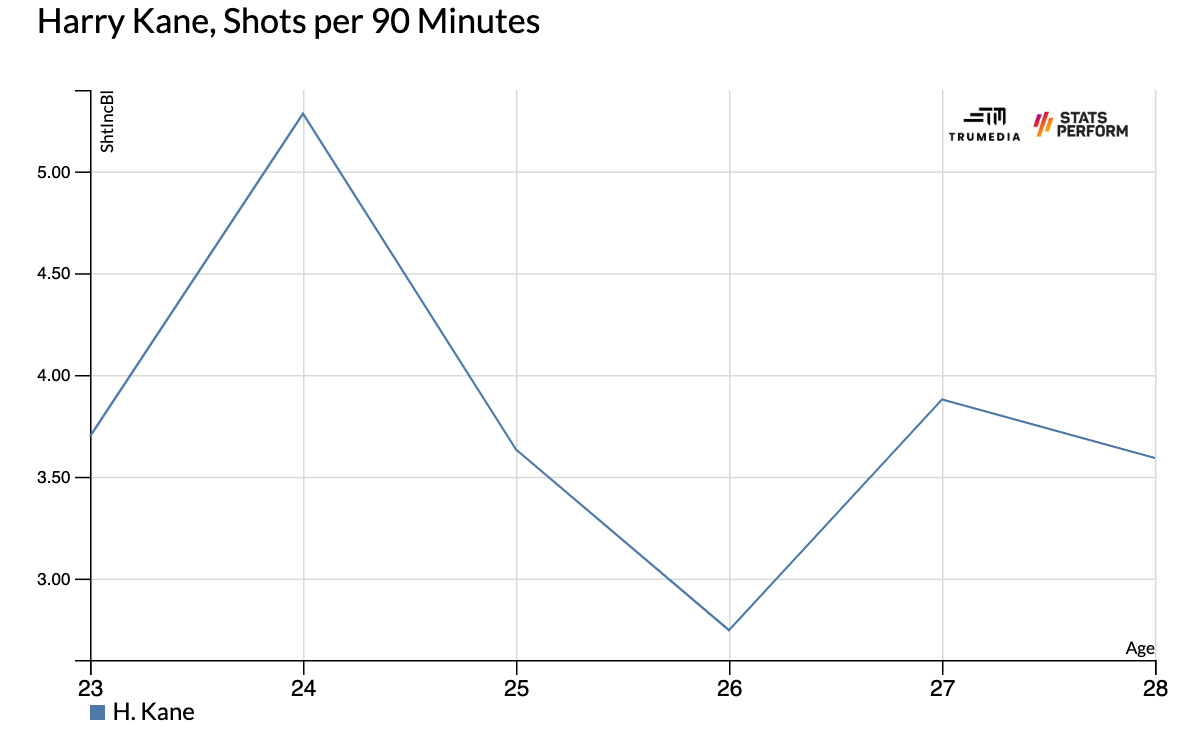 Then, Kane became a superstar again because he suddenly started to create a ton of shots for his teammates.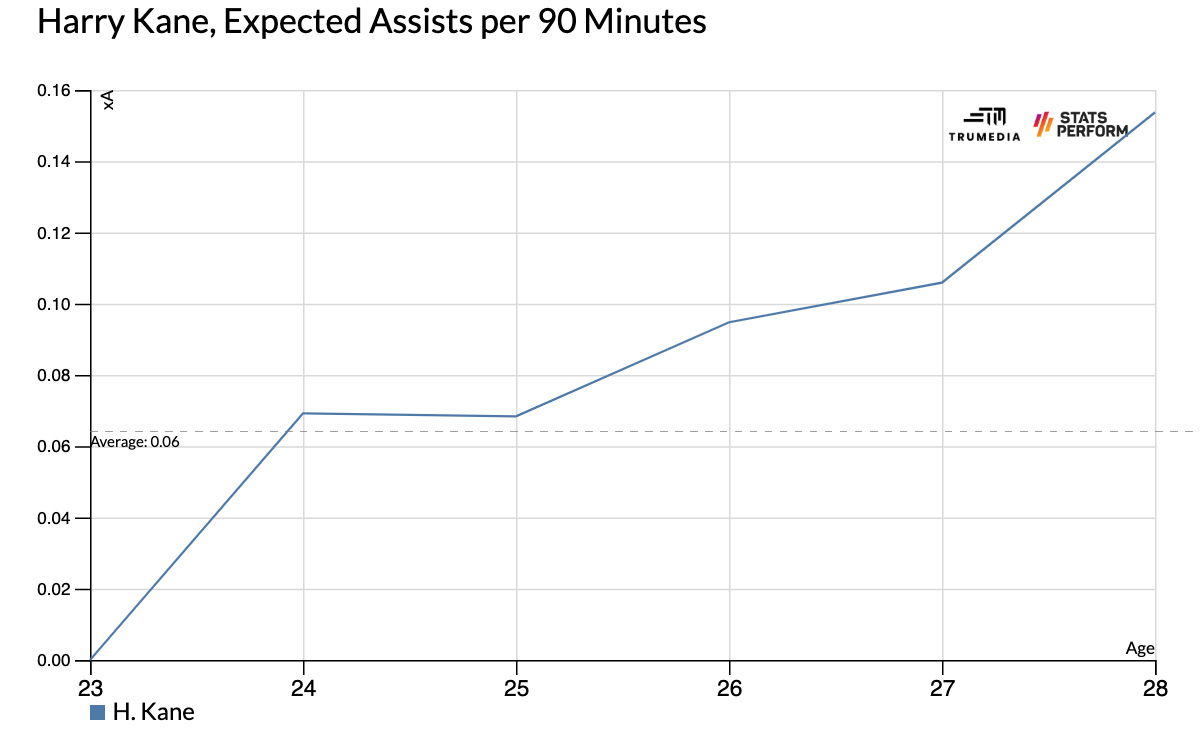 I really can't say enough about how he seemingly reinvented himself on the fly. It's just so impressive. In his early 20s, Kane averaged 26 goals across four consecutive seasons, but didn't register more than five assists in any of them. After a succession of injuries, a decent chunk of the goals dried up, but over the past two seasons, he has more assists (23) than anyone else in the league. Hell, he has more assists over the past two years than in the rest of his career combined.
I mean, who does that?
3. Kevin De Bruyne: 31, MF, Manchester City
He's the new era's answer to Steven Gerrard: a physical, bulldozing, powerful ball carrier who can also kick a ball harder than just about anyone in the league. The field seems smaller for these guys than for everyone else. The big difference, though, is that De Bruyne is a much better player than Gerrard.
What isn't he good at? Among midfielders, he's in the 98th percentile or above for shots, goals, assists, xG, xA, xG+xA, shot-creating actions, progressive passes received and touches in the penalty area. Pathetically, he's only 95th percentile for progressive passes and 97th percentile for progressive carries. He's the most dangerous player in the league with the ball at his feet, but he's equally as good at finding space to receive passes in the most crowded area of the field.
The only reason he's not higher is that he doesn't always play: he's averaged just 1,991 minutes over the past four seasons.
2. Erling Haaland: 22, FW, Manchester City
On the one hand: he's a lumbering striker who looks like he's playing in work boots and, after just one game, we can confirm that he is already the biggest flop in Premier League history. On the other hand: these shots are gonna go in more often than not: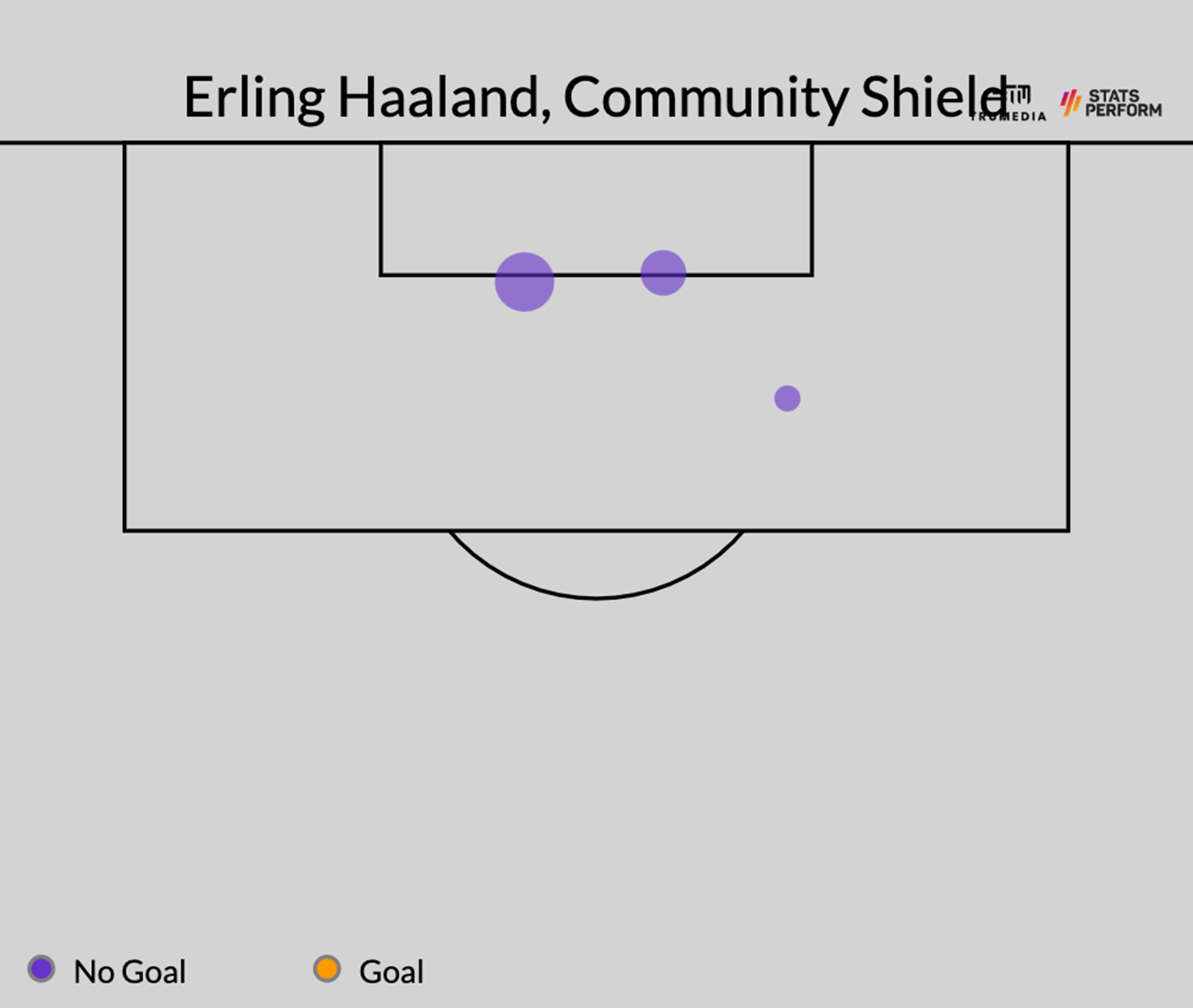 Against Liverpool, Haaland took and missed three shots worth 1.04 xG. Two of the misses, in particular, looked pretty bad, but you're going to be really disappointed if you think he will keep missing these. While nearly everything about this ranking process was designed to be conservative, all of those factors — an emphasis on raw playing time and overall team quality — weren't enough to suppress the following fact: since the start of the 2019-20 season in the Big Five leagues and the Champions League, Haaland has produced 1.21 non-penalty goals+assists per 90 minutes. That's more than anyone else — on this list, or in the rest of the world.
1. Mohamed Salah: 30, FW, Liverpool
It's not that, over the past year, he leads all wingers across Europe in non-penalty xG, shots, xG+xA, touches inside the penalty area, and progressive passes received. Nor is it that no one in the Premier League scored more goals or created more assists than he did last season. No, the main thing is that he's just always out there.
Since joining Liverpool in the summer of 2017, Salah had played 85% of the available league minutes. To put that into context, he's played 14,901 league minutes over that stretch — nearly 500 minutes more than any other attacker in Europe's Big Five leagues. So, you're getting a player who's been available to impact matches more often than any other attacker, and despite the massive minutes load, he's averaged 0.88 goals+assists per 90 minutes across his entire Liverpool career — roughly equivalent to Son's career-best and Vinicius Jr.'s breakout-season at Real Madrid rates from this past year.
You could argue that there are a couple of players who impact matches more than Salah when they're on the field. But in terms of being on the field and being able to provide that impact? No one else comes anywhere close.
Credit: Source link