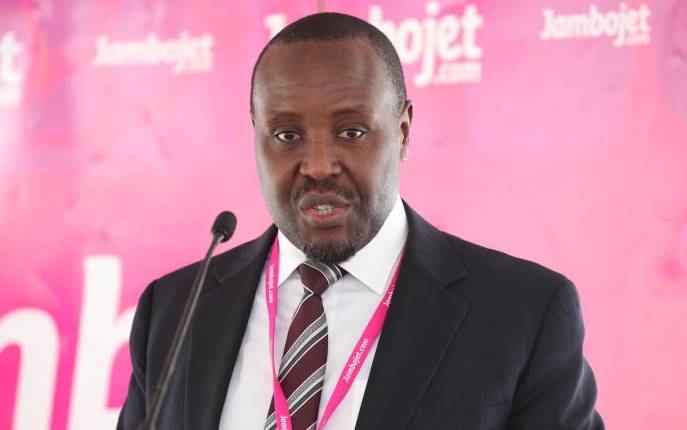 Business
African carriers are staring at Sh858 billion ($8.1 billion) revenue loss this year due to the impact of the virus.
Close to 200,000 jobs in Kenya's aviation industry are on the line as the coronavirus pandemic continues to ground operations. A report by the International Air Transport Association (IATA) estimates that the local industry will incur a Sh77 billion ($0.73 billion) revenue loss this year.
IATA also said that 193,300 people working in the sector could lose their jobs while the Kenyan economy stands to lose Sh169 billion ($1.6 billion) contribution by the aviation sector.
Except for a few airlines that operate cargo flights, most have stopped operations.
"To minimise the impact on jobs and the broader African economy it is vital that governments step up their efforts to aid the industry," said IATA.
SEE ALSO: Covid-19: Sakaja team Bill to cushion vulnerable
The losses in Kenya mirror other African countries. The African Airlines Association (AFRAA) – a regional lobby – said African carriers are staring at Sh858 billion ($8.1 billion) revenue loss this year due to Covid-19.
AFRAA too is rooting for a bailout for airlines, noting that most airlines might not survive the pandemic without assistance.
"AFRAA urges African governments to consider a bailout and stimulus package that compensates for the significant losses, reduces the burden of ongoing operating costs, and subsidizes the industry's survival and recovery," said AFRAA Secretary General Abdérahmane Berthé.
Recovery
"We also call upon international financial institutions and development partners to support airlines with facilities that can help ensure the availability of much-needed credit and liquidity."
SEE ALSO: Experts want Covid-19 integrated in curricula
Kenya Airways Chief Executive Officer Allan Kilavuka said it will take time for the industry to recover from the dent that the coronavirus will leave. He noted that carriers will have to adapt to the situation for now. KQ has made efforts in increasing its cargo-carrying capacity.
"Aviation sector will take time to recover and the general consensus is that there will be a drop in passenger numbers by at least 50 per cent. My own estimate is slightly more than that. We have to adapt to this new context," Kilavuka said during a virtual investor briefing last week.
Kilavuka said the airline was hopeful of restarting passenger flights in the course of this month. About 90 per cent of its operations have been grounded following the restrictions aimed at containing the spread of coronavirus. It currently operates cargo flights and has since the ban on international flights, run a few evacuation flights.
The chief executive said it is looking at restarting with domestic flights initially and with time scale its operations as Kenya and other economies reopen.
"Restarting flights will depend on a lot of things including when international air traffic will be opened in Kenya but also to our destinations," he said.
SEE ALSO: 123 test positive as 54 recover from coronavirus
Credit: Source link